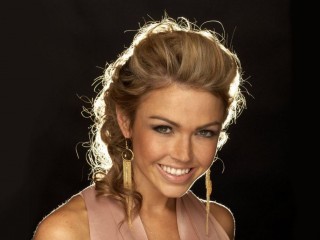 Adele Silva
Date of birth : 1980-11-19
Date of death : -
Birthplace : Norbury, Surrey, England
Nationality : British
Category : Arts and Entertainment
Last modified : 2015-08-03
Adele Silva, born in Norbury, Surrey, England, on November 19, 1980 is a British actress and TV personality .

It was obvious to her family that she was destined for greater things and so at the age of 5, her mother enrolled her in the Peggy O'Farrell Dance School, where she trained in dance and drama.

A casting director quickly realized how talented the young girl was. As a testament to his faith in her, he cast her in London Palladium's production of Babes in the Wood, in which she played one of the babes. This 1985-1986 production saw Adele sharing the stage with such notable actors as John Inman and Barbara Windsor.

Soon after, Adele joined the Sylvia Young Theatre School, where she further honed her skills. In 1989, she made her television debut in the cult science-fiction series Doctor Who. The episode she was in was called "Survival" and she got to act alongside the show's stars, Sylvester McCoy and Sophie Aldred.

A pretty girl and a talented actress, television executives were aware they had a budding star on their hands. Taking advantage of her talent, Adele was invited to guest-star on a number of different shows.

Before her 12th birthday, Adele made appearances in the children's sitcom Mr. Majeika, The Bill, and the phenomenally successful British soap EastEnders, the show that launched the career of actresses like Martine McCutcheon.

Then, TV producers wanted exclusive rights to young Adele. They wanted to make sure if people tuned in to watch Ms. Silva, it was on their own show. These producers were the people behind the soap opera Emmerdale, a show set in the countryside around farmers and villagers.

Adele was cast as Kelly Windsor in 1993. With a program that had been on the air since 1972, she knew she had made the right decision to accept the offer. Her character grew up on the screen and not necessarily in the best of light. A bona fide sexpot, Kelly was one to sleep around with her schoolteacher and later have an affair with her own stepbrother.

During her stay on the show, she realized that it launched the careers of such beauties as Anna Friel and Joanne Whalley, and so Adele remained on Emmerdale until 2000. After taking a short break, people couldn't wait for her to jump back into the spotlight.

She did so by appearing in a number of magazines and newspapers including Maxim, Front, Daily Star Sunday, StarMag, and FHM. The truth was that her body had matured, making her incredibly attractive to men everywhere.

In 2002, she appeared as lesbian Collette in the series Is Harry on the Boat? Then, Adele had a brush with death in south London. On March 21, 2003, she was coming to a halt in her silver Peugeot 205 convertible when a carjacker appeared out of nowhere.

The man had every intention of leaving with her automobile, but Adele had other plans. There was no way she was going to let a thief make off with her prized possession. She tried fighting back but the criminal was determined to succeed. He hit her over the head from behind and dragged her away. Her injuries included cuts and bruises, and a shattered ego.

In December 2003, Adele returned to the stage in a production of Jack and the Beanstalk at the Lyceum Theatre in Crewe. The run lasted a month and had her playing Princess Miranda. In 2004, she made an appearance in Sky One's comedy/drama Mile High in which she played the ultimate airline passenger from hell.

Although her romantic life is nothing to write home about -- her only serious relationship was with soccer player Warren Feeney and it ended in 2001. That said, Adele is the face of global online dating agency Smartflirts. Adele also writes an advice column for Smartflirts.

Still juggling different projects, she shares a home in Croydon (a southern district of London) with her parents, Sophie and George.



View the full website biography of Adele Silva.