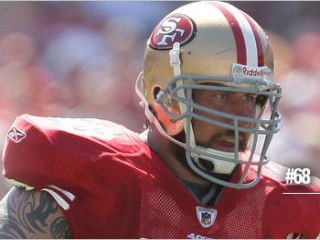 Adam Snyder
Date of birth : 1982-01-30
Date of death : -
Birthplace : Fullerton, California
Nationality : American
Category : Sports
Last modified : 2010-10-14
As the second of two 3rd-round selections in 2005, Adam Snyder has shown immense versatility by making starts at every position along the line with the exception of center (21 at LT, 21 at RT, 7 at LG, 5 at RG).

TRANSACTIONS:
Originally the second of two 3rd-round (94th pick overall) draft choices by SF in 2005.

•As a 6-6, 325-pound tackle, Snyder had an interesting hobby as a young­ster. While growing up in Southern California, he enjoyed spending time in­line skating with his friends. While in junior high, Adam and his friends began to skate for Play It Again Sports, a sporting goods store, who would support the skaters with wheels and accessories, making them locally sponsored performers. Adam's greatest stunt on his wheels was a 13-stair rail.
•Adam enjoys surfing with his wife, Erika, during the offseason.

2009:
•Started every game, lining up at right tackle in 15 contests and at right guard for one game.
•Helped the team rush for a season-high 246 yds. vs. Sea. (9/20).
•Part of an offensive line that did not allow a sack on QB Alex Smith on any of his 41 attempts vs. Jax (11/29). It marked the first time the 49ers did not give up a sack since 11/10/08, at Arz. (QB Shaun Hill – 40 attempts).

2008:
•Saw action in 14 games, starting first 7 contests at left guard before making 6 starts at right tackle.
•Replaced in starting lineup vs. Sea. (10/26) by G David Baas, but entered game at right tackle in 2nd qtr. when T Barry Sims left with an ankle injury.
•Started at RT at Arz. (11/10) in place of Sims and was part of an offensive line that did not allow a sack. Went on to start following 5 contests at RT.
•Left game in 1st qtr. at Mia. (12/14) with an ankle injury and was replaced by Sims.
•Did not play final two contests with an ankle injury.

2007:
•Played in all 16 games with 11 starts, becoming a starter at LT after Jonas Jennings was placed on IR with an ankle injury.
•Made first start of season vs. Bal. (10/7) in place of Jennings.
•Stepped in at left tackle in 2nd half at NYG (10/21) in place of Jennings, who left game with a season-ending ankle injury, and went on to start next 10 contests.

2006:
•Saw action in 14 games with 6 starts, making 3 starts at left tackle for Jen­nings and 3 starts at right guard for G Larry Allen. Inactive vs. GB (12/10) and at Sea. (12/14) due to a sprained knee and ankle.
•Started at left tackle vs. StL (9/17), vs. SD (10/15) and at Den. (12/31) in place of Jennings.
•Started at left tackle vs. Phi. (9/24) and vs. Oak. (10/8) in place of Allen (sprained MCL).
•Returned to action vs. Arz. (12/24) after missing 2 games with a sprained knee and ankle.

2005:
•Saw action in all 16 games during rookie campaign, starting 7 contests at left tackle and one game at right guard.
•Filled in at guard late in 4th qtr. at Phi. (9/18).
•Saw time at guard when G/C Eric Heitmann moved to center due to an injury to C Jeremy Newberry at Arz. (10/2) in Mexico City and vs. Ind. (10/9).
•Made first NFL start at Chi. (11/13) at right guard, taking over for Heitmann, who moved to center to fill in for Newberry (knee/shoulder). Started at left guard for the remainder of season.

COLLEGE

•Three-year starter who played in 49 games with 35 starts at three dif­ferent positions (RG, RT and LT). Became Ducks first two-time first-team all-league offensive lineman in four decades. Departed as one of Oregon's most decorated lineman of all time, becoming Ducks' third Morris Trophy recipient (as the Pacific-10 Conference's top lineman) ever. Allowed only 2 sacks his entire senior season at left tackle as he was voted All-Pac-10. Enjoyed most consistent year on offensive line as a junior, highlighted by earning Oregon's first first-team All-Pac-10 offensive line honors in 20 years, anchoring a line that boasted the League's 4th-best rushing offense.

PERSONAL

•Attended La Serna (Whittier, CA) HS, where he was a two-year starter and 1999 team captain. A 2nd-team all-CIF honoree, helped team rush for over 2,400 yds. as a senior.
•Born Adam Richard Snyder (1/30/82) in Fullerton, CA. Married to Erika. Cou­ple splits time between Santa Clara, CA and Whittier, CA.
•Majored in journalism/public relations.
View the full website biography of Adam Snyder.