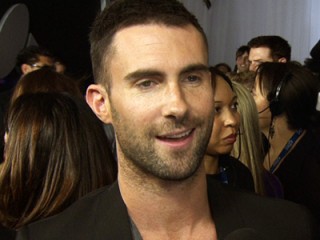 Adam Levine
Date of birth : 1979-03-18
Date of death : -
Birthplace : Los Angeles, California, United States
Nationality : American
Category : Arts and Entertainment
Last modified : 2011-06-17
Adam Noah Levine is an American singer-songwriter and musician, best known as the frontman and guitarist for the pop rock band Maroon 5. He is also a coach on the American talent show The Voice.

He began playing music with junior-high friends guitarist Jesse Carmichael and bassist Mickey Madden under the influence of groups like Nirvana and Pearl Jam, and after the final 1994 addition of Ryan Dusick on drums, the alternative rock band Kara's Flowers were born. The quartet scored a record deal with Reprise, released a mediocre album, and was released from its contract all in a matter of years. Following the termination of its deal, the band went on hiatus and Levine headed to New York with Carmichael to attend Five Towns College on Long Island. While there, he was exposed to a whole new music scene and absorbed new influences like hip-hop, soul, gospel, and R&B that changed Levine's whole perspective on songwriting, even altering the way in which he sang -- from a deeper, grunge-inspired delivery to a higher and more expressive one. Levine and Carmichael dropped out of school after a semester and headed back to California rejuvenated and inspired to add a new groove-based element to their band's rock template. Hooking back up with the rest of the Kara's Flowers guys, Levine began writing a bunch of songs that were directly inspired by his recently failed relationship, which was imploding as the band was entering the studio to record. After adding in new guitarist James Valentine (moving Carmichael over to keyboards) and scoring a new deal with Octone Records, the newly christened Maroon 5 were officially up and running; their debut album, the aptly titled Songs About Jane, was soon completed. Released in June 2002, the album sold steadily over the next couple of years and was certified platinum by 2004. Maroon 5 scored several hit singles, won two Grammy Awards, and toured constantly in support. During their rise in popularity, the pop/rockers managed to stir up a little bit of controversy when the music video for "This Love" included scenes of Levine and his then real-life girlfriend (not Jane) engaging in simulated sex.

Levine has made several notable comic appearances on television. During 2007, he appeared on the 33rd season premiere of Saturday Night Live in an SNL Digital Short called Iran So Far with Andy Samberg, Fred Armisen and Jake Gyllenhaal. Levine played himself while singing a humorous bridge to a "love song" for Mahmoud Ahmadinejad. In 2008, he appeared on Comedy Central's "Night Of Too Many Stars". Levine also had a cameo on Jimmy Kimmel Live for the night of stars and endorsed Barack Obama in the 2008 Presidential Election.

In October 2008, Levine collaborated with First Act to create the First Act 222 Guitar, fashioned to Levine's specifications. The guitar was made available for purchase at Target retail stores.

Levine has stated in various interviews that he does not plan on continuing in Maroon 5 forever, and may stop after the tour for Maroon 5's probable third album.

Levine made a guest appearance as himself on the season three finale of 30 Rock in the episode Kidney Now!.

In 2009, Levine recorded "Gotten", a song for Slash's first solo album Slash released in April 2010. "Gotten" was premiered at amazon.com on March 29, 2010.

Levine is also featured as a singer for his band's song "She Will be Loved" in the music rhythm game Band Hero. After which he is a playable character on any song on the game disc.

In February 2010, he was among approximately 80 musicians who sang on the charity-single remake of "We Are the World" called "We Are the World 25 for Haiti".

Levine is one of the contestant judges and coach mentors on the singing TV show, The Voice.
View the full website biography of Adam Levine.