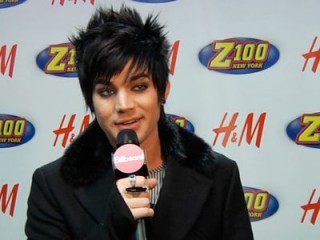 Adam Lambert
Date of birth : 1982-01-29
Date of death : -
Birthplace : Indianapolis, Indiana, U.S.
Nationality : American
Category : Arts and Entertainment
Last modified : 2010-10-13
Adam Mitchel Lambert rose to stardom after participating in "American Idol" season eight in 2008. He, however, started his career in showbiz as a stage actor since he was about ten years old. "You're a Good Man, Charlie Brown", "Hello", "Dolly!", "Chess", "Camelot", "The Music Man" and "Grease" were some of the theater productions he got involved into. While acting, the singer who was born on January 29, 1982 also played music with some friends Steve Sidelnyk, Tommy Victor and Monte Pittman under the moniker The Citizen Vein.

Adam Lambert is well known for his signature yelling tone. His rendition of hit singles from the likes of Michael Jackson, Led Zeppelin, Aerosmith, U2 and The Rolling Stones gained him praise from the Idol judges. Making it to the finale along with Kris Allen, he got the chance to perform alongside Queen during the finale night.

Adam lost the winner crown to Kris, sparking controversy and shocking his fans since he actually was the one who was strongly believed to take the title. Rumor then emerged, suggesting foul play was involved in the voting which was quickly denied by FOX.

Adam himself commented to the press soon after the finale, "First or second, it doesn't matter to me; I got to sing with two great heroic rock bands. I felt so good. I got to sing with Queen and KISS!" He added on another occasion, "The bottom line is that we're such different artists that there's really no way to directly compete. It was more of a competition within yourself. We were competing with ourselves and doing our personal best, and it was up to America, and I'm really happy Kris won. He's super talented."

Post graduating from "American Idol", Adam was invited to tour with KISS. "He can come on tour whenever he'd like," the band's frontman Gene Simmons said. Moreover, Adam was offered to join Queen as their lead vocalist, but he turned down the offer saying, "I do have my own thing to do right now, and that's my goal." He added, "So if I could, I would try to do both. That's the honest question. I would try to do both. I would love to perform with them anytime they wanted me to but I also have my record to do. So, we'll see."

In June 2008, the singer who was known for his trademark eyeliner, fingernail polish and tight pants opened to Rolling Stone about his long rumored sexual orientation. In an interview with the publication, he confirmed his gay status and was proud of it. On why he didn't open up that matter sooner when still competing on the Idol, he said the issue would have been "so sensationalized that it would overshadow" his performance.

In the same month, Adam who confirmed his split from interior designer boyfriend Drake LaBry was signed to 19 Recordings/RCA Records with a debut album confirmed to arrive in fall 2009. Long before any music from his major-label release is shared to public, Hi Fi Recordings put out a song recorded by him long before he auditioned for "American Idol" and announced that a record called "On With the Snow" would be released prior to his RCA debut.

In response to the issue, Adam released a statement saying, "Back in 2005 when I was a struggling artist, I was hired as a studio singer to lend my vocals to tracks written by someone else. I was broke at the time and this was my chance to make a few bucks, so I jumped at the opportunity to record for my first time in a professional studio. I'm thrilled to be working with some of today's hottest songwriters and producers and can't wait for people to hear what my music really sounds like."

From July to September 2009, Adam toured with his other Idol pals who made it to the Top 10. In between his hectic schedule on the road, he started working on his first studio album. Max Martin, Linda Perry, Dr. Luke, RedOne, Pink, Lady GaGa and Ryan Tedder were some of the hottest music talents who were involved in the making of the album "For Your Entertainment" which is released across U.S. on November 23.

View the full website biography of Adam Lambert.