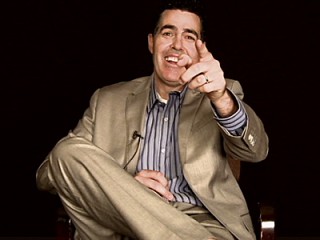 Adam Carolla
Date of birth : 1964-05-27
Date of death : -
Birthplace : Los Angeles, California, US
Nationality : American
Category : Arts and Entertainment
Last modified : 2011-06-16
Adam Carolla is an American radio personality, television host, comedian, and actor. He currently hosts The Adam Carolla Show, a talk show distributed as a podcast on the ACE Broadcasting Network.

Carolla is also known as being the co-host of the radio show Loveline from 1995 to 2005 (and its television incarnation on MTV from 1996 to 2000), as the co-host of the television program The Man Show (1999–2004), and as the co-creator and performer on the television program Crank Yankers (2002–2007).

In November 2010 Carolla's book In Fifty Years We'll All Be Chicks debuted on the New York Times Best Seller List for hardcover non-fiction.

Carolla was born in Philadelphia, PA on May 27, 1964, but raised in Southern California. While attending North Hollywood High School, he was a star football athlete, but a poor student. The class clown had dreams of becoming a comedy writer, but even the offer of a football scholarship to U.C. Davis was not enough to make him continue his lackluster academic career. After high school (from which he claimed he never officially graduated because he owed library fines for an overdue book), Carolla embarked on a series of blue-collar jobs, including carpentry, landscaping, carpet cleaning and house painting. He was not resigned to a tool belt-toting future, however, and spent his evenings performing stand-up comedy – which he did not find to be a particularly good fit – training with the famed Groundlings, and performing with a sketch comedy group at the Acme Comedy Theater. Despite his attempts to gain some visibility for his talent, his big break in entertainment was about to come from the most unlikely of places — a job as a boxing trainer.

In 1994, Carolla was working part-time as a boxing instructor at his local gym when one of L.A.'s top-rated stations, KROQ-FM, was looking for someone to train an on-air personality for a charity boxing match. Tapped for the painful publicity stunt was the young comic Jimmy Kimmel – then known as "Jimmy the Sports Guy" – from KROQ's popular Kevin & Bean morning show. Radio producers selected Carolla's gym and Carolla himself to train Kimmel for the stunt. Kimmel ended up getting clobbered in the three-round charity bout, but the better news was that Carolla and Kimmel had hit it off and that the former proved to be a natural on-air performer himself. His quick wit and easy repartee with Kimmel and the others during the stunt led to an invitation to join the show's repertoire of characters.

Among Carolla's signature personas was Mr. Birchum, a high-strung Vietnam vet shop teacher – a character Carolla would later revive on his show, "Crank Yankers." In 1995, he was offered a high-profile gig as co-host of the nationally syndicated call-in advice radio show, "Loveline." Serving as an obnoxious, one-man Greek chorus opposite stoic, cerebral Dr. Drew Pinsky, Carolla began to build a fan base of his own. He was known to hilariously segue into extended observational commentary on matters having little to do with the show topics, working up ire over his dislike for organized religion, parking enforcement, political extremism, and lazy DMV employees.

The following year "Loveline" was spun off into a television version for MTV. One of the cable network's highest rated hour-long programs, "Loveline" ran for four seasons, during which Carolla began to make more onscreen appearances as a comic personality on shows including "Hollywood Squares" (NBC and Syndicated, 1966-2004), and lending his voice talent to "Space Ghost, Coast-to-Coast" (Cartoon Network, 1994-2004). He continued to co-host the radio version of "Loveline" as a career backdrop, but in 1999, Carolla and career-launching buddy Jimmy Kimmel co-created their first TV comedy venture, "The Man Show" (Comedy Central, 1999-2003).

The irreverent show used pre-taped sketch comedy and studio segments with audience interaction to proudly celebrate the most loutish and testosterone-obedient aspects of manhood. Carolla and Kimmel were the masters of ceremony of the beer chugging, busty women, and generally unbridled male bonding of the lowest order. In 2002, Carolla, Kimmel, and their partner Daniel Kellison (and their collective Jackhole Productions company) expanded their Comedy Central presence with the creation of "Crank Yankers" (Comedy Central, 2002-05, 2007- ). The unique cult hit used real audio of Carolla, Kimmel, and a rotating cast of stand-ups performing crank calls, while the scenes were enacted onscreen by puppets. Carolla also built up his voiceover resume with characters on shows including "Buzz Lightyear of Star Command" (ABC, 2000-01), "Family Guy" (Fox, 1999-2002, 2005- ) and "Drawn Together" (Comedy Central, 2004- ).

In 2003, Carolla and Kimmel left "The Man Show" to launch their own talk shows, "Too Late with Adam Carolla" (Comedy Central, 2005) and "Jimmy Kimmel Live" (ABC, 2003- ), respectively. Carolla's 11:30 p.m. time slot on Comedy Central failed to find an audience and the show was cancelled in late 2005. The same could not be said for Kimmel's talk show, which took off like gangbusters. Around the same time, Carolla appeared on TLC in "The Adam Carolla Project" (TLC, 2005), a short but entertaining run that centered on Carolla and a group of his incompetent friends renovating his childhood home.

Then the man whom Kimmel had described as "the busiest lazy man in show business" landed the job of his dreams with an offer to helm his own morning drive-time show, replacing Sirius-bound Howard Stern in a number of key West Coast markets. Carolla jumped at the chance, announcing an end to his decade on radio's "Loveline" and debuting "The Adam Carolla Show" on Jan. 26, 2006. Similar to Stern, Carolla's 6-10 AM show featured a long list of regular comic characters (Deaf Frat Guy, Peanut) and recurring comic segments (Custom Strip-o-Gram, Gay Walking); overall reflecting the type of irreverent humor that had won him fans on "The Man Show" and "Loveline." The show's ratings steadily grew and it was picked up by additional markets.

Carolla made his film debut in 2007, as the co-writer, co-producer, and star of the semi-autobiographical film "Hammer" (2007), which premiered at the TriBeCa Film Festival to surprisingly warm reviews and was slated to hit theaters in 2008. It was probably no promotional coincidence that at the time of the film's theatrical opening in March, Carolla would be appearing on primetime television as a toe-tapping contestant on the pop culture phenomenon, "Dancing with the Stars" (ABC, 2005- ).

View the full website biography of Adam Carolla.