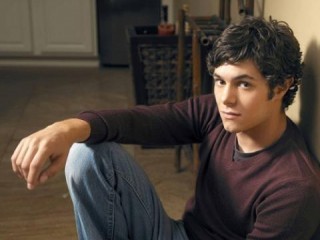 Adam Brody
Date of birth : 1979-12-15
Date of death : -
Birthplace : San Diego, California, U.S.
Nationality : American
Category : Arts and Entertainment
Last modified : 2010-10-13
Adam Jared Brody is an American film and television actor. He began his career in the early 2000s, appearing on the Gilmore Girls and other series, and subsequently came to fame for his role as Seth Cohen on The O.C., establishing his defining screen persona. Joel Stein of Time magazine has described Brody as creating an "Adam Brody type", a screen persona of a "nerdy, sarcastic, obscure-reference-laced Jew". Brody has also appeared in several film roles, including Mr. & Mrs. Smith, Thank You for Smoking and In the Land of Women.

Adam Brody was born in San Diego on December 15, 1979. Adam was the oldest among four sons of the Jewish American couple, Mark Brody and Valerie Siefman. Living in the coastal city where there were many beaches, Adam grew up just like any other normal teenagers. He happily sun basking, surfing, skateboarding and having fun with his friends while attending Scripps Ranch High School. Everything seemed to run smoothly for Adam when he told his parents that he wanted to move to L.A. to attend college. However, while studying in MiraCosta College in Oceanside, California he knew something far greater was waiting for him in Hollywood.

Abandoning his academic lessons, he hired the services of an acting coach who eventually loaded him with skills, enough for him to sign a contract with a manager. Earning brief appearances in "The Amanda Show" (1999) and MTV's "The Sausage Factory" (2000) eventually landed him a major part in "Never Land" (2000), a fantasy flick about the deconstruction of Peter Pan tale. More luck was coming up when he was noticed possessing near resemblance to actor Barry Williams who had the same brown and wavy hair. Williams who had played Greg Brady in the famous sitcom "The Brady Bunch", running from 1969 to 1974, wrote every 'behind the scene' happenings of the movie which later on became the story plot of "Growing Up Brady" (2000). Adam's task was to represent the young Barry Williams in the latter movie and it was in fact a quick leap for him who pursued the particular career within only a year span.

Apparently, being a teen idol was a match to MTV's target market for the production company put him in a teen sexual relationship anthology titled "Undressed" (1999) for their third season. It was a short-lived character and worse, he was rather stumbled in the next movie "Roadside Assistance" (2001) which featured him as Rusty, Lucy's ultimate love interest who intended to marry Lucy's best friend. As if it didn't sound a little too similar to "My Best Friend's Wedding" (1997), the movie was a bit too ordinary and thus couldn't bring him a further leap. Even appearing in the hilarious and popular teen parody "American Pie 2" (2001) was still proven inadequate for him to shine in the industry. Perhaps it was the constant fortitude of guest starring in some popular TV series, like "Once and Again" (1999), "Family Law" (1999) and "Smallville" (2001) that sent him the next big wave. After standing as Kellen in the blockbuster thriller "The Ring" (2002), he was contracted for seven episodes of Emmy winning series "Gilmore Girls" (2000) as Dave Rygalski, Lane Kim's love interest.

To widen his horizon, Adam hoped that he got a chance to explore his writing skill and so it came true when he finally co-wrote, produced and acted in "Home Security" (2003). Not as earnest as the title, the movie was about having ninja for home security instead of the usual dog guard. And still not moving from comedy, he completed the comical "Grind" (2003) while also was involved in a heart touching drama about war, "Missing Brendan" (2003). The former enabled him to display his ability in skateboarding, just like what he did back in his hometown. His acting got even matured or more precisely excellent in "The O.C." (2003). Chosen as one of the main characters of the series, Adam splendidly portrayed Seth Cohen, the gawky but charming son of Sandy Cohen which played by Peter Gallagher. Seth who seeks love advises from his buddy Ryan Atwood finally wins the heart of a friend's friend named Summer which was played by Rachel Bilson. Seth and Summer's romance entanglement was so vivid and believably sincere that both Adam and Bilson won the 2005 Teen Choice Awards for Choice TV Chemistry. Off screen was no different as Adam fell head over heals for Bilson and the young couple had been dating since the first season of "The O.C."

Accumulating his success on TV, he added big screen records by appearing opposite the sensational duo Angelina Jolie and Brad Pitt in the action and romance packed "Mr and Mrs Smith" (2005). Striving higher, he joined the star-studded comedy "Thank You for Smoking" (2005), which is an interesting film about a man supporting smoking culture while becoming the role model for his son at the same time. Working under a newcomer director Jon Kasdan, Adam would be the center of the story of "In the Land of Women" (2007) where he was a young TV writer left devastated after breaking up with his TV actress girlfriend. To achieve this far was a great accomplishment already, but Adam didn't wish to stop until he could have something he could be proud of "I love movie-making. I'm interested in writing and directing, and I've dabbled, but I haven't done anything I care to brag about. Yet."

While his acting career kept striving high with the actor starred in two more film projects during the year 2007, "Smiley Face" and "The Ten," his love life sadly went on a downward spiral as his romance with Rachel Bilson came to an end.

View the full website biography of Adam Brody.