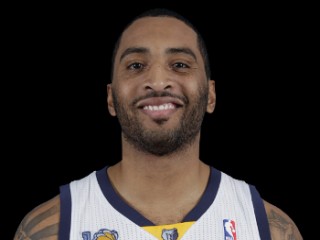 Acie Law
Date of birth : 1985-01-25
Date of death : -
Birthplace : Dallas, Texas, USA
Nationality : American
Category : Sports
Last modified : 2011-03-28
Acie Law IV is an American professional basketball player with the Golden State Warriors of the National Basketball Association.

NBA CAREER :
Was originally selected by Atlanta in first round (11th overall) of 2007 NBA Draft...Acquired from Atlanta, along with Speedy Claxton, in exchange for Jamal Crawford on June 25, 2009...Enters 2009-10 owning career averages of 3.6 points, 1.0 rebounds, 1.8 assists and 12.8 minutes (111 regular-season games over two seasons with Atlanta)...Has appeared in 13 career playoff games, averaging 2.2 points, 1.1 assists and 6.8 minutes.

2008-09 :
Appeared in 55 total games (one start), averaging 2.9 points, 1.1 rebounds and 1.6 assists in 10.2 minutes. ..When playing at least 15 minutes, averaged 6.9 points and 3.0 assists. ..Had a 3-to-1 assist to turnover ratio (86-29). ..Was one of only 13 players in the NBA to amass a 3-to-1 turnover ratio in 2008-09 (minimum 55 games). ..Scored a career-high 20 points while shooting 6-of-11 (both career-highs) from the field on 11/22/08 at Cleveland. ..20-plus points once...10-plus points three times. ..Appeared in six playoff games, averaging 1.3 points and 1.0 assists in 4.7 minutes.

2007-08 :
In 56 games (six starts), averaged 4.2 points, 1.0 rebounds and 2.0 assists in 15.4 minutes. ..In his six starts, averaged 4.8 points, 2.2 rebounds and 3.8 assists. ..Ranked 5th among all rookies in assists per game. ..Was 3rd on the team in assists per game. ..Scored 10-plus points nine times. ..Missed 20 games due to injury (10 with sprained left ankle, 10 with sprained right wrist). ..Appeared in seven playoff games, averaging 3.0 points and 1.1 assists in 4.7 minutes.

COLLEGE :
Played four years at Texas A&M, appearing in 122 games (106 starts) and averaging 13.7 points and 4.5 assists (.466 FG%, .357 3FG%, .760 FT%). ..Finished his career ranked 3rd on the school's all-time scoring list with 1,669 points, while also ranking 3rd in assists (545) and 6th in steals (156). ..As a senior in 2006-07, won the Bob Cousy Award, presented to the nation's top point guard by the Naismith Basketball Hall of Fame. ..Also earned consensus first team All-America honors and was named first team All-Big 12 for the second straight year. ..Led the Aggies to the NCAA Tournament in each of his final two seasons, the first of which was the school's first appearance since 1987. ..Played collegiately with NBA players Antoine Wright and DeAndre Jordan.

PERSONAL:

Is the son of Dolores and Acie Law III...Has a baby daughter, Mackenzi Kaylee Law...Has two sisters, Frances and Vivian Law...Lists his mother as the person he admires most...Along with his parents, established the Acie Law Foundation, a non-profit organization with a mission of engaging and empowering youth throughout the nation, by incorporating the foundation's four guiding principals: leadership, confidence, knowledge and integrity...For the 2009-10 season, has purchased 25 tickets to every home game and donated those tickets to various children's groups, with the groups sitting in his special "Above The Law" section...Graduated from Texas A&M with a degree in agricultural leadership...Says graduating from college and getting drafted by the NBA are his biggest personal achievements...Lists losing the Texas High School State Championship on a half-court shot as his biggest disappointment...Was a high school teammate of NBA guard Quinton Ross...Enjoys bowling and playing video games in his spare time...Claims an autograph by his childhood hero Magic Johnson as his most prized possession...A fan of the television show Fresh Prince of Bel-Air as a child, currently enjoys Law & Order: SVU...Is the great-nephew of Chicago Cubs great Ernie Banks...Lists the Dallas Cowboys as his favorite sports team…Wears size 13 shoes.


View the full website biography of Acie Law.