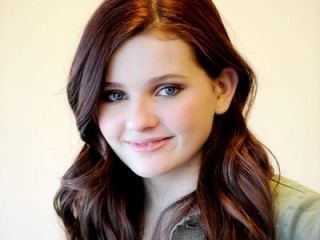 Abigail Breslin
Date of birth : 1996-04-14
Date of death : -
Birthplace : New York City, New York, U.S.
Nationality : American
Category : Arts and Entertainment
Last modified : 2015-08-03
Abigail Kathleen Breslin is an American teen actress. She is one of the youngest actresses ever to be nominated for an Academy Award.

Breslin appeared in her first commercial when she was only three years old, and in her first movie, Signs, at the age of five. Her subsequent films include Little Miss Sunshine, Nim's Island, Definitely, Maybe, My Sister's Keeper; Zombieland, and Rango.

Born April 14, 1996, Breslin was the younger sister of child actor Spencer Breslin, who starred in "Disney's The Kid" (2000) and "The Cat in the Hat" (2003); the siblings appeared together in the 2004 weeper "Raising Helen" and "The Princess Diaries 2: Royal Engagement." Her acting career began with appearances in several national television commercials, starting with a spot for Toys 'R' Us at the age of three. Her big break came in 2002 when M. Night Shyamalan cast her as Mel Gibson's youngest daughter in his science fiction hit, "Signs." Her character in the film - a curiously grave adolescent girl dealing with the traumatic death of her mother - clearly showed that Breslin had the chops to handle complex parts even at the tender age of six.

Turns on episodic series such as "Law and Order: Special Victims Unit" (NBC, 1999- ) and "Navy N.C.I.S." (CBS, 2003- ) preceded a trio of films in 2004 - all very different in tone and audience. In "Raising Helen," she was one of three recently orphaned children being raised by their career-minded aunt, while in the frothy teen comedy/romance "The Princess Diaries 2: Royal Engagement" (2004), she had what amounted to a cameo as a parade girl. Her final 2004 film was the dark, psychological drama "Keane" by "Clean, Shaven" (1995) director Lodge Kerrigan, in which she played the young daughter of a down-and-out mother who entrusts her child to a man who appears to be teetering on the edge of madness.

More TV and a direct-to-video feature - the kids' movie "Chestnut: Hero of Central Park," (2006) - followed, but "Little Miss Sunshine" was primed and sitting in the wings. Breslin found herself once again the subject of critical praise and movie audiences' adoration. Her entrancing, star-making performance - which stood out in a cast peopled by such top talent as Greg Kinnear, Toni Collette, Steve Carrell, and the esteemed Alan Arkin, with whom she shared some of the film's funniest scenes - was recognized by the Gotham Awards, who nominated her for Breakthrough Performance and as part of the Best Ensemble Cast. She also got a nod from the Screen Actors Guild Awards, earning a nomination for Outstanding Performance by a Female Actor in a Supporting Role - Theatrical Motion Pictures. The ultimate recognition came with an Oscar nod for Best Supporting Actress, making her the fourth-youngest actress ever nominated.

Following her summer triumph in "Sunshine," Breslin was besieged with offers for both film and television. She landed a guest-starring turn on "Grey's Anatomy" (ABC, 2005- ) as a child who cannot experience physical pain, and added some zest to the predictable Vince Vaughn holiday comedy "Fred Claus" (2007). In the romantic comedy "No Reservations" (2007), she was again tapped to provide precocious charm as a nine-year-old entrusted to the care of an exacting and ambitious chef (Catherine Zeta-Jones) who has a love/hate relationship with co-worker Aaron Eckhart. The independent romantic comedy "Definitely, Maybe" (2008) fared better with critics, and gave Breslin a little more to work with in her role as the daughter of a divorcé (Ryan Reynolds) who tells her the story of his early romances.

Next up for the busy actress, Breslin co-starred alongside former child star Jodie Foster in the family adventure "Nim's Island" (2008), and gave younger audiences another offering with "Kit Kittredge: An American Girl" (2008), based on the popular series of historic dolls and books. Taking a more serious turn, she starred as the sister of a cancer patient (Sofia Vassilieva) who sues over the right to decide whether or not to donate an organ to her sister in "My Sister's Keeper" (2009). In the fall of that year she returned to comedy with the tongue-in-cheek horror movie, "Zombieland" (2009).

With previews beginning in February 2010, she made her Broadway theatre debut as Helen Keller in The Miracle Worker at the Circle in the Square Theatre. Breslin has said that she was honored to play Keller,who is one of her "biggest heroes". The Alliance for Inclusion in the Arts, an advocacy group for blind and deaf actors criticized the play's producers for not casting a deaf or blind actor in the role. Lead producer David Richenthal defended the decision, stating that he needed a well-known actress: "It's simply naïve to think that in this day and age, you'll be able to sell tickets to a play revival solely on the potential of the production to be a great show or on the potential for an unknown actress to give a breakthrough performance." Vision-impaired actress Kyra Siegel was cast as Breslin's understudy. Breslin's performance was praised by critics; Frank Scheck of The Hollywood Reporter wrote that she "well portrays Helen's feral rebelliousness in the play's early sections and is deeply touching as her character's bond with her teacher grows". Ticket sales for the play, however, were considered disappointing, and the show closed in April 2010.

View the full website biography of Abigail Breslin.