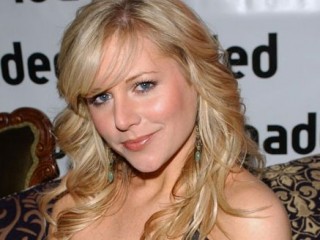 Abi Titmuss
Date of birth : 1976-02-08
Date of death : -
Birthplace : Ruskington, Lincolnshire
Nationality : British
Category : Arts and Entertainment
Last modified : 2015-08-04
Abigail Evelyn Titmuss, best known as Abi Titmuss is a former English nurse turned glamour model, television personality and actress.

Titmuss graduated from City University in St Bartholomew's Hospital in 1998. She did a nursing diploma because her A levels were not good enough to be a doctor and became a staff nurse at London's University College Hospital.

Titmuss had been dating TV presenter John Leslie since 1998, when in 2002 Ulrika Johnsson wrote in her autobiography that an unnamed television presenter had sexually assaulted her earlier in her television career. Shortly afterwards, Matthew Wright named (apparently accidentally) John Leslie as the alleged perpetrator on his Five.tv television chat show The Wright Stuff. Titmuss was then resultantly brought into the media spotlight when photographed with Leslie returning from working a night shift, and after this point her picture appeared regularly in British newspapers. She was then photographed always supporting Leslie in his court case, dress demurely but stylishly in black, and waiting supportively in the background.

Titmuss first acted during her university studies, and then took part-time acting courses at the Central School of Speech and Drama, paid for from her nursing work. After reducing her glamour model work, Titmuss took a further short course at the Central School of Speech and Drama.

Titmuss made her London theatre acting debut in March 2006, playing a prostitute with a multiple personality disorder in Two Way Mirror by Arthur Miller, at the Courtyard Theatre in Kings Cross.

In 2006, Titmuss filmed a small role in the major motion picture Goal! 2. She was also offered a role in a remake of Galaxy of Terror, a 1980 horror movie set on an alien planet. She turned it down upon learning that her character would be molested and eaten by a giant moth.

Titmuss was due to have been the subject of a theatre production in a musical satire entitled Being Abi, performed by students in her home county of Lincolnshire. Devised by pupils at Boston College in May 2006, it was scheduled for a three-day run before being cancelled by two of the performers' concerned parents, who objected to some of the production's content.

In February 2007, Titmuss won a Fringe Report Award for Best West End Debut for her role in Two Way Mirror.

She appeared as a celebrity on reality series Deadline with Janet Street Porter as an editor on ITV2. The show followed a number of celebrities as they attempted to produce a celebrity-based magazine each week, published as a supplement to Closer. Titmuss was the fourth celebrity to be sacked from the show. She has previously guest-presented shows on Virgin Radio, MTV and LBC radio.

Titmuss appeared in the second series première of Rob Brydon's Annually Retentive, which aired 30 April 2007 on BBC Three and as a character called Gezebelle in an episode of Katy Brand's Big Ass show, a new sketch comedy series for ITV2.

From 26 February to 23 March 2008, Titmuss appeared in the black comedy Fat Christ at the King's Head Theatre in Islington, London and is due to appear in the touring play Seven Deadly Sins Four Deadly Sinners.

She has been cast in small roles in British independent films Do Elephants Pray? and Mixed Up. In 2008 she played the role of the 'Mysterious Girl' in Beat 24 Films UK independent feature film Frontman.

In 2009 she was cast in John Godber's play Up 'n' Under to celebrate its 25th Anniversary at the newly refurbished Hull Truck Theatre, Hull. Titmuss played the role of Hazel the fitness instructor, starring alongside James Crossley (formerly Gladiator "Hunter") and soap actor Lewis Linford (Lee Naylor in Emmerdale).She also had a part in the BBC TV series Hotel Babylon, playing a nun.

From November 2009, Titmuss appeared in Shakespeare's Macbeth, playing the character of Lady Macbeth with the Seagull Rep. This production opened the Seagull Theatre, Pakefield, Lowestoft before transferring to other East Anglian venues including; The Cut and Halesworth, Bungay's Fisher Theatre and Sudbury Arts Center, until December 4.


View the full website biography of Abi Titmuss.