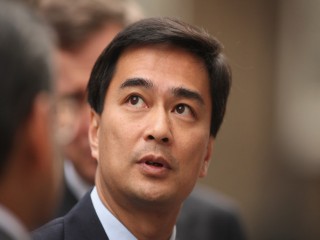 Abhisit Vejjajiva
Date of birth : 1964-08-03
Date of death : -
Birthplace : Newcastle, London
Nationality : Thai
Category : Politics
Last modified : 2010-07-20
Abhisit Vejjajiva, born 3 August 1964 in Newcastle, London is a Thai politician and the 27th and current Prime Minister of Thailand.

He has been the leader of the Democrat Party since February 2005. Abhisit successfully ran for MP in Bangkok under the Democrat Party in the 1992 election, which followed the 1991 NPKC military coup. Abhisit quickly rose through party ranks but failed in a bid to become party leader in 2001. Abhisit became party leader after the Party's overwhelming defeat in the 2005 elections.

Abhisit Vejjajiva became Thailand's twenty-seventh prime minister in December of 2008. He was the third person to hold that position in four months and, at 44, the youngest in 60 years. His job would be to steady the rudder of a country in political turmoil.

Patrician Politician

Abhisit was born on August 3, 1964, into an accomplished Thai-Chinese family in Newcastle, England. Both of his parents were medical school professors, and his two sisters grew up to pursue successful careers, one as a professor and the other as an author. And Abhisit was no exception to the family rule. He attended England's most prestigious private school for boys, Eton College (where he became known as "Mark Vejj"), before earning a bachelor's degree with first class honors in philosophy, politics, and economics (PPE) from Oxford University. He then went on to garner a master of philosophy degree in economics from Oxford and a bachelor of law degree from Ramkhamhaeng University.

Abhisit initially launched a career in teaching, taking lectureship posts at Oxford, the Chulachomklao Royal Military Academy, and Thammasat University. But in 1992 he entered politics as a member of the Democrat Party and became one of Thailand's youngest-ever members of Parliament at the age of 27. In Parliament, he served in various capacities, including deputy secretary for political affairs to the prime minister (1994), chair of the House Committee on Education Affairs (1995), and minister to the prime minister's office (2001). He also progressed up the ladder in his party, becoming its deputy leader in 1999 and, after a failed bid in 2001, party leader in 2005.

Soon after Abhisit's ascension to the top of the Democrats, Thailand's normally stable government fell on difficult times. The trouble began with a 2006 coup that overthrew then-Prime Minister Thaksin Shinawatra. By 2008 the turmoil included national demonstrations and the forced shutdown of the country's international airports. The year also saw the ouster (via Constitutional Court) of both Thaksin's successors in office. Thus, when Abhisit was chosen to be Thailand's twenty-seventh prime minister through a special parliamentary session in December, it was difficult to really envy him in his new role. Nonetheless, his ongoing and ardent campaign against government corruption, as well as his intellectual gifts and personal charm, were seen by many to be harbingers of better days ahead. But clearly, those days could not arrive without great focus and effort on the young prime minister's part. Rise or fall, the challenge was likely to become the defining milestone of Abhisit's career.

AWARDS

Knight Grand Cordon of the Most Noble Order of the Crown of Thailand, 1998; Knight Grand Cordon (Special Class) of the Most Exalted Order of the White Elephant, 1999.
View the full website biography of Abhisit Vejjajiva.