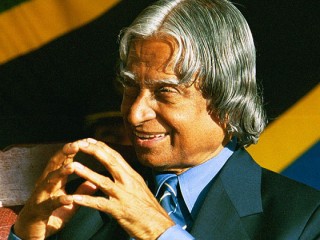 Abdul Kalam
Date of birth : 1931-10-15
Date of death : -
Birthplace : Tamil Nadu, India
Nationality : Hindi
Category : Science and Technology
Last modified : 2010-10-19
Apart from being a notable scientist and engineer, Dr APJ Abdul Kalam served as the 11th President of India from the period 2002 to 2007. He is a man of vision, who is always full of ideas aimed at the development of the country and is also often also referred to as the Missile Man of India. People loved and respected Dr APJ Abdul Kalam so much during his tenure as President that was popularly called the People's President. Read more about the biography of Dr APJ Abdul Kalam here.

APJ Abdul Kalam was born on 15 October 1931 at the South Indian state of Tamil Nadu and received honorary doctorates from about 30 universities globally. In the year 1981, the Government of India presented him the nation's highest civilian honor, the Padma Bhushan and then again, the Padma Vibhushan in 1990 and the Bharat Ratna in 1997. Before Kalam, there have been only two presidents - Sarvepalli Radhakrishnan and Zakir Hussain - to have received the Bharat Ratna before bring appointed to the highest office in India.

Read on about the life history of Dr APJ Abdul Kalam, who's also the first scientist and bachelor to occupy the seat of the Rashtrapati Bhavan. His perspectives on important topics have been enunciated by him in the book 'India 2020'. It highlights the action plans that will help develop the country into a knowledge superpower by the time 2020. One thing for which he received ample kudos is his unambiguous statement that India needs to play a more assertive role in international relations.

And Dr APJ Abdul Kalam regards his work on India's nuclear weapons program as a way to assert India's place as a future superpower. Even during his tenure as President, APJ Kalam took avid interest in the spheres of India's science and technology. He has even put forward a project plan for establishing bio-implants. He is also an ardent advocate of open source software over proprietary solutions to churn out more profits in the field of information technology in India.
View the full website biography of Abdul Kalam.