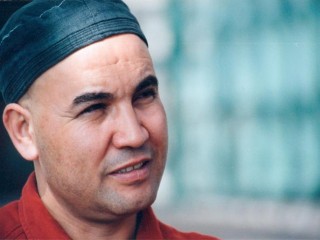 Abdelli
Date of birth : 1958-04-02
Date of death : -
Birthplace : Tizi Ouzou, Algeria
Nationality : Algerian
Category : Arts and Entertainment
Last modified : 2011-07-19
Abderrahmane Abdelli is an Algerian-born author, composer, and singer songwriter known for mixing the traditional North African music of his homeland with modern sounds.

The musical traditions of Algeria are fused with modern musical influences by Abdelli. Although descended from the Kabyls, a part of the berber tribe that inhabited Northern Africa as early as 7000 BC, Abdelli has carved his own, improvised, sound with a combination of traditional instruments, including mandola, bender and darbukka, and other instruments from around the globe.

Abdelli has been attracting attention for more than two decades. Teaching himself to play mandola at the age of 17, Abdelli sharpened his skills in his native homeland. Performing at the Algerian Independence Festival on July 5, 1979, he received a prestigious award from Radio Kabyle as "best new amateur singer". Throughout the 1980s, he performed in Denmark, Paris, Germany, Algeria and Brussels, where he recorded with top-ranked Algerian and Moroccan musicians in 1987.

Following the release of his debut album, New Moon, in 1995, Abdelli performed at the Womad International Festival and recorded with Peter Gabriel, Marta Sebestyen and Loreena McKennitt. The following year, he toured Europe and performed, along with Sir Yehudi Menuhin and Ravi Shankar, during a concert in Brussels. In 1997, Abdelli resumed his involvement with the Womad Festival and recorded in Athens with Michalis Nikolocides and Hossam Ramzy. His next recording, Among Brothers, some three years in the making, was released by Real World in 2003.

View the full website biography of Abdelli.