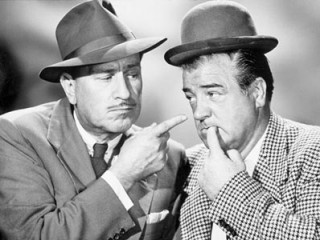 Abbott And Costello
Date of birth : -
Date of death : -
Birthplace : New Jersey, United States
Nationality : American
Category : Famous Figures
Last modified : 2011-07-14
William "Bud" Abbott and Lou Costello performed together as Abbott and Costello, an American comedy duo whose work on stage, radio, film and television made them the most popular comedy team during the 1940s and 1950s.

As one of the most popular comedy teams of all time, they never possessed the outrageous class of the Marx Brothers, nor the heart-tugging empathy of Laurel & Hardy. True, they never developed their characters past their original stage personas, and this was truly the Achilles heel, the great flaw, that kept them from achieving believability with their audience.

But as case-hardened veterans of the vaudeville and burlesque circuit, by the time America caught on to them, they had their classic nonsense patter sketches down so cold that nobody could top their comedic timing. In short, they were just plain funny, and at their best could leave you on the floor laughing like a hyena at jokes and sight gags so old you'd think the script was chiseled in stone by Fred Flintstone himself. To paraphrase the old saying, nobody liked them but the people, and the people loved them. They came from immensely diverse backgrounds, Bud Abbott's parents being circus folks who worked for the Ringling Brothers operation, with their son finding work as a race car driver, manager, lion tamer and box office attendant. Lou Costello (born Cristillo) came from Patterson, New Jersey -- Lou's hometown being interjected into almost every A&C routine that needed a name of a city -- excelling at sports and winning a college scholarship to Cornwall-on-Hudson military school for his efforts. The two met after Costello came to the West Coast, doing stunt work in silent pictures, doubling falls for everyone from Tim McCoy to Dolores Del Rio. When the talkies came in, Lou found work in vaudeville and burlesque, teaming with Bud one night -- as legend has it -- when his regular straight man failed to show.

They honed their rapid fire patter act throughout the 1930s on the New York burlesque circuit, finally becoming big enough to seek greener pastures and better offers, a world away from Minsky's. Among the better offers was a national radio hookup on the top-rated Kate Smith show, where they scored big enough to be added as regulars. Their classic baseball patter routine, Who's on First, became so famous that Bud and Lou cut a special gold record of it for inclusion into the Baseball Hall of Fame. The movies came calling soon after that, with the team becoming part of the national consciousness in the wake of their second film, Buck Privates, released in 1941, just as the United States was entering World War II. The material couldn't have been grooved any better to match the country's mood at the time and this low-budget musical featuring the Andrews Sisters was enormously successful. By years' end, there were three more Abbott & Costello movies rushed into general release and the duo ranked number three in the movie polls of top box office draws. But by the mid-'40s, due to either the lack of character growth (their characters, with Abbott as the domineering bully and Costello as the gullible 'patsy,' hadn't really developed past their vaudeville days), too much of a good thing or just a formula wearing itself out, the duo had gone into a slump, seldom reaching the heights of popularity they had enjoyed a mere five-years earlier. Teaming up with Universal's stable of 'monsters' produced one great film, Abbot & Costello Meet Frankenstein, but soon even this novel idea was quickly reduced to formula in succeeding films. But if their hot streak in movies was getting colder, Bud and Lou had a new field to consider: television. After a successful TV debut on the Colgate Comedy Hour, they decided to join the burgeoning field of filmed television comedy.

Bud and Lou cranked out all 52 episodes of their television series between 1952 and 1953, virtually one a week, as if they were doing two-reelers. Of course, that's just about what they were; with Sidney Fields (who plays Mister Fields, the mean-spirited, bald-headed landlord) fashioning situation comedy scripts out of ancient burlesque blackout staples, Bud and Lou's old stage act patter, and lifting whole A&C movie routines all based around a simple premise that may or may not reach a logical conclusion within the half-hour format, these 52 episodes stand as a link between the best two-reel short-subject comedies of the '30s and '40s and situation comedy television in a very embryonic form. They went right back to making movies after that, but their tenure as the big boys of Universal's comedy stable were quickly coming to an end. Bud and Lou had really benefited from the Hollywood studio system, but in the early '50s, it was a system that was quickly becoming outdated. After cranking out films for almost 14 years, Abbott & Costello were dropped by Universal. They did one more film together (released independently through United Artists), Dance With Me Henry, lacking all of the old fire and magic. Lou started appearing as a solo act in 1957, and soon the word was all over show business that Abbott & Costello were no longer a team. The split was an amicable one, with Bud happy to let Lou continue to work as a single while he took it easy.

Costello went on to do dramatic work in television, make numerous guest appearances on variety and comedy shows and made one last film, The 30 Foot Bride of Candy Rock, before succumbing to a heart attack on March 3, 1959. Abbott & Costello may have lacked depth and a certain artistic viewpoint, but -- to their eternal credit -- they never pretended to be anything but what they were, two journeymen comics who could make you laugh, even if you felt guilty about it. The fact that their work has survived over the decades to reach new audiences is testimony enough to the success of their endeavors.
View the full website biography of Abbott And Costello.