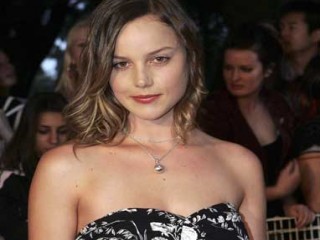 Abbie Cornish
Date of birth : 1982-08-07
Date of death : -
Birthplace : Lochinvar, New South Wales, Australia
Nationality : Australian
Category : Arts and Entertainment
Last modified : 2011-03-21
Abbie Cornish is an Australian actress. She is well known in Australia for a number of film and television roles, her award-winning lead performance in 2004's Somersault and her role as Fannie Brawne in Bright Star.

Abbie Cornish is a grounded Aussie who grew up on a 170-acre farm where she learned the value of hard work and perseverance at an early age. Abbie also learned just how dull tending cattle can be, and she happily traded in her galoshes for a hospital smock in 1997 when she made her acting debut on the Australian series Children's Hospital. The experience served as an epiphany for the young actress and she soon packed up her bags and moved to Newcastle where she landed a role on the highly rated television series Wildside. Although the show was canned, Abbie walked away a winner when she was awarded the Young Actor's AFI Award at the Australian Film Institute in 1999.

With her skill and reputation growing at equal measure, Abbie Cornish made her big-screen debut in The Monkey's Mask, a lesbian crime caper that starred Kelly McGillis and John Noble. The film helped catapult Abbie Cornish into the public spotlight and she followed up the project with well-received guest-starring roles on Water Rats, Outriders, Life Support, and White Collar Blue.

Abbie Cornish returned to the big screen in 2004 in One Perfect Day and in Somersault, a poetic drama about the differences between sex and love. The daring role paid major dividends for her blossoming career, and Abbie Cornish was rewarded for her breathtaking performance with Best Actress awards from the Australian Film Institute, the Film Critics Circle of Australia and the Inside Film Awards.

In 2006, Abbie Cornish hit her stride as she worked beside Hollywood-heavyweights Russell Crowe in A Good Year, and Cate Blanchett and Clive Owen in Elizabeth: The Golden Age.

2008 was another jam-packed year for Abbie Cornish. She appeared in the flicks Stop-Loss, Bright Star, More Than Scarlet, and Last Battle Dreamer. Much of 2006 and 2007, during and after the filming of Stop-Loss, was spent speculating Abbie Cornish's involvement with Ryan Phillippe and whether or not she had anything to do with his breakup with Reese Witherspoon.

In April 2010 Cornish was cast in the film adaptation of the novel The Dark Fields, directed by Neil Burger and also starring Robert De Niro.

Abbie Cornish will play the role of Wally in the film W.E. about Nazi collaborators Wallis Simpson and Edward VIII. It will be directed by Madonna. The shooting began July, 5 2010 in England. She narrated her film Sucker Punch on the 2010 San Diego Comic-Con International.


View the full website biography of Abbie Cornish.