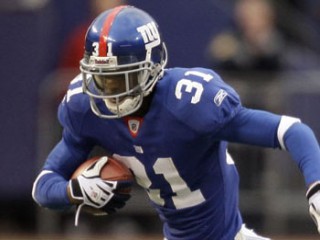 Aaron Ross
Date of birth : 1982-09-15
Date of death : -
Birthplace : San Antonio, Texas, U.S.
Nationality : American
Category : Sports
Last modified : 2010-10-01
* Originally a 1st round (20th pick overall) draft choice by the Giants in 2007.


GIANTS NOTES
* Ross started 9 games in 2007, the 2nd year in a row the Giants' first-round draft choice started that number of regular season games. Mathias Kiwanuka started 9 games in 2006.
CAREER HIGHLIGHTS
* Ross has played in 34 regular season games with 25 starts (24 at left cornerback and 1 at strong safety) and in 5 postseason games with 4 starts at cornerback. In 3 seasons, he has 115 tackles (75 solo), 1.5 sacks, 6 interceptions and 17 passes defensed.
* In 2009, Ross played in 4 games with 1 start…Suffered a hamstring injury in training camp that forced him to miss the entire preseason and the first 9 games of the regular season…Finished with 15 tackles (9 solo)…Made season debut on special teams and in sub defenses vs. Atlanta (11/22) and had 3 tackles…Made 1st career start at strong safety vs. Philadelphia (12/13) and had 7 tackles (3 solo)…Ross was inactive for the next 2 games and placed on injured reserve (12/30).
* In 2008, started all 15 games in which he played and finished with 57 tackles (30 solo), 3 interceptions and 8 passes defensed. Inactive in the season finale at Minnesota (12/28) due to a concussion…Contributed a season-high 8 tackles (3 solo), 1 QB hit and 1 pass defensed vs. Washington (9/4)…Had 7 tackles (4 solo), 1 QB hurry and 2 passes defensed vs. Seattle (10/5)…Finished with 4 solo tackles and 2 interceptions vs. Baltimore (11/16). Scored his 2nd career touchdown on a 50-yard interception return late in the 3rd quarter. It was his 2nd interception of the game.
* As a rookie in 2007, played in 15 games with 9 starts and in all 4 postseason games with 3 starts…Finished with 53 tackles (36 solo), 1.5 sacks, 3 interceptions and 9 passes defensed…In the postseason, he had 13 tackles (9 solo) and 1 pass defensed.
* Had 1 solo tackle in his NFL debut at Dallas (9/9).
* Made his 1st career start vs. Philadelphia (9/30) and finished with 6 tackles (4 solo) and 2 passes defensed.
* Did not play in the 1st half vs. the Jets (10/7) because he was disciplined after violating an undisclosed team rule. But Ross twice intercepted Chad Pennington in the 4th quarter, his first 2 NFL picks. The first was at the goal line, likely prevented a Jets touchdown and led to the Giants' go-ahead score. Ross returned the second interception 43 yards for a touchdown for the Giants' final points with 3:15 remaining. It was the Giants' 1st touchdown on an interception return since Oct. 23, 2006, when Kevin Dockery – who was also a rookie – picked off a Tony Romo pass in Dallas and returned it 96 yards for a score. Ross was the 1st Giant with 2 interceptions in a game since Gibril Wilson had 2 at Carolina on Dec. 10, 2006…Finished with 3 tackles (1 solo), 3 passes defensed and 2 interceptions.
* Started at left cornerback at Atlanta (10/15) and recorded his 3rd interception of the season when he picked off a Joey Harrington attempt in the end zone to end the 2nd quarter…Also split a 6-yard sack of Harrington with DE Michael Strahan.
* Did not play at Chicago (12/2) due to hamstring injury.
* Started in the NFC Wild Card Game at Tampa Bay (1/6) and had 6 solo tackles.
* Started in the NFC Divisional Playoff Game at Dallas and finished with 5 tackles (3 solo) before being forced from the game in the 2nd quarter with a shoulder injury…Returned in the 3rd quarter but was forced to leave again.
* Started vs. New England in Super Bowl XLII and had 1 assisted tackle.
COLLEGE
* Ross played in 51 games with 15 starts at Texas. He registered 205 tackles (145 solo) with a 1-yard sack, 5 stops for losses of 21 yards and a quarterback pressure. He forced 3 fumbles and recovered 2 others, returning 1 for a touchdown. Ross batted away 33 passes and intercepted 10 others for 111 yards in returns (11.1-yard avg.). He also returned 76 punts for 893 yards (11.8-yard avg.) and 3 scores and added 53 yards on a pair of kickoff returns.
* Ross' 76 punt returns ranked 6th on the Longhorns' career-record chart and his 893 career punt return yards ranked 5th…His career average of 11.8 yards per punt return ranked 4th in Texas history.
OFF FIELD ACTIVITY
* Supported the Make a Wish Foundation of New Jersey by hosting one of their kids for a day at practice.
* Attended the Champions for Children fundraiser gala benefitting the Tom Coughlin Jay Fund Foundation.
* Attended a fundraiser dinner hosted by Coach Peter Giunta for Holy Spirit School.
* Hosted Giants fans and season ticket holders during the team's Draft Day Party at New Meadowlands Stadium.
* Attended the Giants Kickoff Luncheon benefitting St. Vincent's Medical Center.
PERSONAL
* Married to Olympic sprinter Sanya Richards…Attended John Tyler High School in Tyler, Texas, where he played cornerback, wide receiver and running back during his 3-year career…Selected 2nd-team Class 5A All-State after posting 6 interceptions, 3 fumble recoveries, 3 blocked kicks and allowing just 1 touchdown reception as a senior…Returned a fumble and a blocked punt for a score in 2000, adding 350 rushing yards (on 46 carries) and 5 touchdowns…Also caught 5 passes for 200 yards and 2 scores…During his time at both schools he lettered 4 times as a sprinter in track and field and twice in basketball.
* Education major…Active in UT's community service program, serving as a summer camp counselor (Camp Tyler Summer Camp)...Born
Aaron Jermaine Ross
on Sept. 15, 1982 in San Antonio, Texas…Resides in Tyler, Texas.
View the full website biography of Aaron Ross.