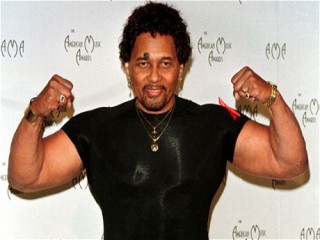 Aaron Neville
Date of birth : 1941-01-24
Date of death : -
Birthplace : New Orleans, Louisiana,U.S.
Nationality : American
Category : Arts and Entertainment
Last modified : 2012-01-05
Aaron Neville is an American soul and R&B singer and musician. He has had four top-20 hits in the United States (including three that went to number one on Billboard's adult contemporary chart and one that went to number one on the R&B chart) along with four platinum-certified albums. He has also recorded with his brothers Art, Charles and Cyril as The Neville Brothers and is the father of singer/bassist Ivan Neville.

With his pure, sweet voice--an unlikely match for his formidable physical appearance--he earned the family its first national fame, as well as its most recent exposure through his duets with pop singer Linda Ronstadt on her album Cry Like a Rainstorm, Howl Like the Wind.

Neville and his brothers Cyril, Charles, and Art had made a name for themselves in New Orleans's rhythm and blues circles by the mid-1950s. Art had formed a band during high school called the Hawketts, who in 1954 had a big regional hit with their recording of the Carnival song "Mardi Gras Mambo." Aaron, a member of the Hawketts, assumed leadership of the group when Art joined the U.S. Navy in 1958. That same year, however, Aaron was arrested for car theft and sentenced to six months in prison. While incarcerated "there was nothing to do but sing and fight," he told Playboy contributor Steve Pond, so he honed his skills at both. Upon his release Neville promptly married and landed a record contract as a solo artist. His first success was "Over You," recorded for Minit Records; it went to the Number 21 spot on the rhythm and blues charts.

Throughout the 1960s Neville recorded intermittently for many labels, including Instant, Parlo, Bell, and Safari. In 1966 Parlo released the ballad "Tell It Like It Is," which became a national Number 1 rhythm and blues hit and a national Number 2 pop hit. Due to an exploitive contract, however, Neville never received any royalties for the recording. Such dealings were common during those days, he told Pond: "You got paid for the session, and that was about it.... I had to take care of the family. I had jobs like longshoreman, truck driver, house painter. You name it, I done it, and sang on the weekends. I figured we ought to be able to get a big record out, but we never really did--at least that's what the record company told us. Later, [Rolling Stones guitarist] Keith Richards told me, 'I've been listening to you since the early Sixties.' And I said, 'They told me my records weren't gettin' no further than Baton Rouge.'"

Backed by a three-man rhythm section, Art and Aaron played together through much of the 1960s as the Neville Sounds, but in 1967 producer Allen Toussaint broke up that alliance by hiring Art and the rhythm section to perform as his house band, the Meters. Toussaint also recorded some of Aaron's work, but most of it was released only on small regional labels, if at all. Shortly thereafter Aaron went through a low period plagued by drugs, crime, and few professional singing engagements.
In 1975 all four Neville brothers reunited to back up the Wild Tchoupitoulas, a musical tribe of "black indians" in flamboyant Mardi Gras costumes, led by the Nevilles' uncle George "Big Chief Jolly" Landry. Their album, The Wild Tchoupitoulas, was released on Island in 1976.

While touring to support the album, the siblings began performing whole sets as the Neville Brothers, singing four-part harmonies. This led to an album deal with Capitol; unfortunately, the brothers were marketed as a disco act and their album flopped. About that time, however, Bette Midler heard them and worked hard to further their success. She helped win the Nevilles another contract in 1978, which resulted in an album that featured Aaron's quivering voice on the standards "Mona Lisa" and "Ten Commandments of Love." Despite wide praise, the album was a commercial failure and another record contract was soon broken.

Although their recording career was foundering, the Nevilles were touring nationally, opening for popular acts like Huey Lewis and the News and the Rolling Stones. Those appearances were climaxed by the brothers' transformation into the Wild Tchoupitoulas. Aaron Neville was also undergoing a personal transformation, replacing his dependence on drugs with a deep religious faith. In the late 1980s he worked with Ronstadt on Cry Like a Rainstorm, Howl Like the Wind, singing four duets. The tremendous success of these efforts set the stage for the Neville Brothers' own album, Yellow Moon, which, according to Pond "brilliantly summarized the Neville Brothers' social concerns and musical strengths."

Despite a hard life, Aaron Neville has retained a childlike enthusiasm for singing. Pond quoted producer Daniel Lanois: "He just loves to sing.... Aaron sees music as 'Oh, I love this country song, and I like that Bob Dylan song, and I'll happily sing a syrupy ballad.' There doesn't seem to be a difference in his mind. He's still innocent."

Neville signed to SonyBMG's new Burgundy Records label in late 2005 and recorded an album of songs by Otis Redding, Marvin Gaye, Curtis Mayfield, Sam Cooke and others for Bring It on Home…The Soul Classics, released on September 19, 2006. The album, produced by Stewart Levine, features collaborations between Neville and Chaka Khan, Mavis Staples, Chris Botti, David Sanborn, Art Neville, and others. The album's first single was a remake of The Impressions' 1963 classic "It's All Right."

In 2009, Neville, along with the Mt. Zion Mass Choir, released a version of the song "A Change Is Gonna Come" on the compilation album, Oh Happy Day.On December 12, 2010, while performing at Baton Rouge's Manship Theater in the Shaw Center, Neville was inducted into The Louisiana Music Hall Of Fame.Neville is an inductee of the Delta Music Museum Hall of Fame in Ferriday, Louisiana.

Albums; with the Neville Brothers
-The Wild Tchoupitoulas Island, 1976.
-The Neville Brothers Capitol, 1978.
-Fiyo on the Bayou A & M, 1981.
-Treacherous: A History of the Neville Brothers, 1955-1985 Rhino, 1985.
-Yellow Moon A & M, 1989.
-Brother's Keeper A & M, 1990.

Albums; Solo LPs
-Orchid in the Storm (EP), Rhino, reissue, 1990.
-Greatest Hits Curb/CEMA, 1990.
-Golden Classics Tell It Like It Is Collectibles.
-The Classic Aaron Neville: My Greatest Gift Rounder Records, 1990.
-Also appeared on Linda Ronstadt's album Cry Like a Rainstorm, Howl Like the Wind.
View the full website biography of Aaron Neville.