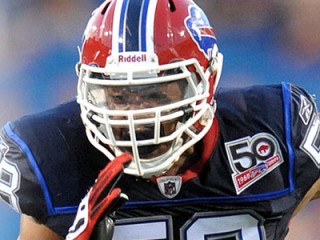 Aaron Maybin
Date of birth : 1988-04-06
Date of death : -
Birthplace : Ellicott City, Maryland
Nationality : American
Category : Sports
Last modified : 2010-11-23
Aaron Maybin is an American football Defensive end/Outside linebacker for the Buffalo Bills of the National Football League.

PRO: Was taken 11th overall in the 2009 NFL Draft…the second 11th overall selection in team history.

2009:
* Vs. TB (9/20) was credited with his first NFL tackle.
* At MIA (10/4), tallied one tackle and played on special teams.
* At NYJ (10/18), played on defense and special teams.
* At CAR (10/25), had one tackle on defense and played on special teams, nearly blocking a punt.
* Vs. MIA (11/29), tallied two tackles, including one for a loss.
* Vs. NYJ (12/3), played on defense and special teams, tallied three tackles.
* At KC (12/13), tallied two tackles, one tackle for a loss and forced a fumble on special teams.
* Vs. IND (1/3), had one tackle and one special teams tackle.

COLLEGE:
Started 10-of-26 games during his Penn State career…recorded 61 tackles (38 solos) with sixteen sacks for minus 110 yards, the 14th-highest total in a career by a Nittany Lion... Added 24.5 stops for losses of 128 yards and one QB pressure... Caused four fumbles and deflected four passes... His 12.0 sacks in 2008 tied Larry Kubin (1978) for fifth on the school season-record list.

* 2008:
Took over left defensive end duties in the season's third game…Started 10 of the team's next 11 games... Selected to the All-American first-team by the Associated Press, Walter Camp Football Foundation, Football Writers Association of America (FWAA), CBSSports.com and CollegeFootbaIINews.com...Named a second-team AII-American by The NFL Draft Report and The Sporting News... Chosen NCAA Defensive Player of the Year by the Pigskin Club of Washington, D.C... Was one of three finalists for the Bednarik Award, presented to the nation's top defensive player... Was among the six finalists for the Ted Hendricks Defensive End of the Year Award... All-Big Ten Conference first-team choice…totaled twelve sacks for minus 78 yards... Finished third in the conference and tied for eighth nationally with an average of 1.54 tackles for loss per game... Led the Lions with 20.0 stops for losses totaling 94 yards... Ranked sixth on the squad with 49 tackles (30 solos), adding one pressure, three forced fumbles and three pass deflections... Had at least one tackle behind the line of scrimmage in each of the thirteen games he played in, including at least one sack in ten contests.
* 2007: Earned Freshman All-Big Ten Conference honors from The Sporting News...Appeared in all 13 games as a reserve defensive end... Recorded 12 tackles (8 solos) with four sacks for minus 32 yards and 4.5 stops for losses of 34 yards... Caused a fumble and broke up one pass.
* 2006: Redshirted as a freshman.

PERSONAL: ,/b>
Majored in integrative arts and communications... Born Aaron Michael Maybin ... Attended Mount Hebron (Ellicott City, Md.) High School, playing football for head coach Larry Luthe... Earned 2005 Baltimore Sun All-Metro team, second-team big school All-State and first-team All-Howard County accolades...As a junior, he produced 79 tackles with nine sacks, followed by 10 sacks and 80 tackles in his final season... Participated in drama programs and did volunteer work…wrestled in the heavyweight class and played one year of basketball at Mount Hebron…was a member of his church choir in Baltimore.

COMMUNITY
In 2009, Aaron participated in the Toyota Rookie Club appearing at numerous community events throughout Western New York and Southern Ontario. The Toyota Rookie Club helps the franchises newest players become more involved in the Western New York community. Each month, Aaron and all first year players did one community appearance as a group. The Toyota Rookie Club events included a visit to Dave & Buster's to play video games and host a pizza party with pediatric cancer patients hosted by Brian Moorman's PUNT Foundation, a visit to the Lawrence Park Collegiate Institute Panthers in Toronto, Ontario to discuss the importance of sport and activity with the student-athletes and to present the football team with $3,000 in new equipment for the school's football program, and a trip to the Northwest Buffalo Community Center in November 2009 where the Rookie Club Members served Thanksgiving Dinner to approximately 300 children and families. In addition to serving food, the players introduced themselves to the community members during a brief ceremony, sat and ate with them, and signed autographs.

The final Rookie Club appearance of 2009 took place at the Annual Bills Holiday Party. The Rookie Club and Bills veterans hosted nearly 100 children from a number of different local community organizations. The Annual Holiday Party gives children from the organizations an opportunity to celebrate the holidays with the Bills players, Jills cheerleaders, Billy Buffalo, and Santa Claus. The children received a holiday dinner, pictures and autographs and gifts from a wish list that they had previously submitted.

Aaron has become heavily involved in the Buffalo Bills "Play 60" Challenge sponsored by BlueCross BlueShield of Western New York and the American Heart Association. Aaron helped to introduce the program in a kickoff celebration for over 1,700 students in the Buffalo Public Schools. At the celebration he participated in a "Play 60" themed trivia show and also shared health and fitness tips with the group of 3rd – 6th grade students. Aaron also served as a spokesperson for the 2009 Kid's Escaping Drugs Campaign, Face Your Fears. The funds that were raised benefited the Kid's Escaping Drugs Face to Face Program which is an educational outreach program that goes into the schools to help kids at an age where they are faced with difficult choices.

Aaron was also on hand at the High School Player Development Camp held at Ralph Wilson Stadium. Aaron spoke to the 200 high school players about his road to the NFL and the importance of making smart decisions. Aaron had participated in the High School Player Development Camp back in his hometown of Baltimore, Maryland when he was a high school student so he wanted to come back to show his support to the HSPD camp in Buffalo.
View the full website biography of Aaron Maybin.