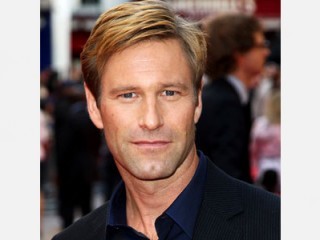 Aaron Eckhart
Date of birth : 1968-03-12
Date of death : -
Birthplace : Cupertino, Californis, U.S.
Nationality : American
Category : Arts and Entertainment
Last modified : 2010-10-13
Aaron Edward Eckhart was born to a computer executive father and a mother who was a children books author on March 12, 1968, Eckhart had made Cupertino, California his home but spent much of his life globe-trotting. He attended a local high school but in the middle of the study, he chose to quit and took a three years break during which he spent most of his time surfing in Hawaii or skiing in France. Moving to Australia with his family, he hardly plunged to the local culture before moving again to England, but in the end had to land the decision that he better attended college in the States. However, he needed a high school certificate in order to enter filming major in Brigham Young University, Utah so he took an equivalent and able to complete his study in 1994.

After the graduation, things got quite disappointing when he only gained a tiny bit part in the thriller "Slaughter of the Innocents" (1994) and was soon out of notable job for the next three years. Luckily, he was reunited with a senior in BYU named Neil LaBute who was at that time an emerging director and was about to film "In the Company of Men" (1997). Trusted to portray the main character Chad, Eckhart didn't waste the chance and astonishingly showed a highly narcissistic and heartless executive who wanted to take a revenge on women after being hurt by one. Such breakthrough immediately caught the attention of movie critics. Playing his first lead role, Ekchart was already granted a Special Achievement Award for Outstanding New Talent in the 1998 Satellite Awards. Seemingly in love with Eckhart's capability in acting, LaBute once again cast him in the drama comedy "Your Friends & Neighbors" (1998) which required him to be a fat, miserable and impotent husband. So unrecognizable that many audiences didn't realize that it was the same Aaron Eckhart but most importantly he got the chance to know how it felt like to play along other great actors like Jason Patric, Ben Stiller, Amy Brenneman and Catherine Keener.

Still in his 1998 agenda, he had to complete one more movie titled "Thursday" as a drug dealer in L.A. which pictured him in a more serious atmosphere. At this point Eckhart ought to feel that his star was rising but sadly in the same year he had to break his engagement to actress Emily Cline whom he proposed to few years before due to a reason which they kept for themselves. Recovering from the unpleasant situation, he made huge come back in Oliver Stone's "Any Given Sunday" (1999) as Nick Crozier and Steven Soderbergh's Oscar winning biopic "Erin Brockovich" (2000) as George. Surely his supporting role as the biker who won Erin's heart in the latter film was unforgettable and so did his role as a used car salesman in the Golden Globe winning flick "Nurse Betty" (2000). Striking while the iron was hot, the next year he walked in a thriller directed by Sean Penn titled "The Pledge" as a young detective investigating the murder of a young child before working for the fifth times with LaBute in "Possession" (2002) as Gwyneth Paltrow's investigation partner. Ready to be challenged once again, Eckhart involved himself in three thrillers "The Core", "The Missing" and "Paycheck" which were favorite films in 2003, but to sweeten things up, he showed a comedic side of him by guest-starring as Frank in the popular TV series "Frasier" (1993) for two episodes in 2004.

Apparently, he couldn't stand apart from his favorite movie genre which was thriller and so acted in "Suspect Zero" (2004) as the hunting FBI agent opposite Ben Kingsley. He performed well but sadly the movie was not exactly a boom. The next role that he played along Helena Bonham Carter in "Conversation with Other Women" (2005) was just simply interesting. Owning no name, just being a 'man' and 'woman' the two characters represented how two poles could end up sexually attracted after simply meeting as strangers. In 2005, taking in as many as two other movies, "Thank You for Smoking" as Cameron Bright's father and "Neverwas" as a psychiatrist who discovered a unique individual within a schizophrenic, he radiated his willpower in portraying various kinds of characters with their own uniqueness that he was tapped by Brian de Palma to appear in "The Black Dahlia" (2006), an adaptation of James Ellroy's novel. Opened up to any kind of characters he then involved himself in a sweet and 'delicious' comedy titled "Mostly Martha" (2007) about a chef who dedicated her life to invent food masterpieces but was distracted when she had to take care of her niece. Played the main role was Catherine Zeta-Jones while Eckhart would be the Italian sous chef who would help and teach her everything she had to learn about socializing and loving.

Generally speaking it was rather odd that Eckhart played so many supporting as well as leading roles in numerous blockbuster movies but won no single prestigious awards since his first wide screen "In the Company of Men". Probably it was the matter of choosing the right role, but to him it was all about personal satisfaction as he said "I think that maybe that's my weakness, in that I don't know how to do it, so I just do what I do and try to do it as passionately and as well as I can."

View the full website biography of Aaron Eckhart.