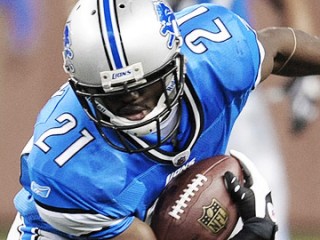 Aaron Brown
Date of birth : 1985-10-10
Date of death : -
Birthplace : Katy, Texas
Nationality : American
Category : Sports
Last modified : 2010-12-10
Aaron Brown is an American football Running Back and return specialist for the Detroit Lions.

2010: Serves as the teams' back-up running back and kick returner.
* Saw playing time on offense in season opener at Chicago (9/12).
* Carried the ball 3 times for 13 yards and caught 2 passes for 10 yards vs. Philadelphia (9/19).
* Inactive at Green Bay (10/3), vs. St. Louis (10/10), at New York Giants (10/17), against Washington (10/31), against the New York Jets (11/7) and at Buffalo (11/14) after suffering an injury (finger).
* Carried the ball for nine yards on one carry and caught two passes for 6 yards at Dallas (11/21).
* Carried the ball 13 times for 36 yards and had 4 catches for 29 yards against New England (11/25).

2009: Had 27 carries for 131 yards (4.9 avg.) and 10 receptions for 84 yards with one touchdown. Returned 43 kickoffs for 959 yards (22.3) on the season.
* Returned five kickoffs for 180 yards, including a long of 87 and added one carry on offense for nine yards at New Orleans (9/13).
* Brown's 87-yarder was the longest kickoff return by a Lions rookie since WR Eddie Drummond's 88-yard kickoff return at Atlanta (12/22/02.), and it was the longest kickoff return in the NFL during opening weekend.
* Recorded four carries for 10 yards vs. Minnesota (9/20) and returend six kicks for 96 yards, including a long of 23.
* Returned two kicks for 38 yards and added five carries for six yards vs. Washington (9/27).
* Recorded a career-high 27 yards rushing at Seattle (11/8) including a career-high long of 19 yards.
* Scored first career touchdown on a 26-yard reception in addition to returning four kickoffs for 118 yards (29.5 avg.) with a long of 46.
* Started his first career game in a slot receiver position vs. Green Bay (11/26).
* Registered his third-longest kickoff return of the season (42 yards) at Cincinnati (12/6).
* Gained 21 yards on three carries and caught three passes for 19 yards vs. Chicago (1/3). Brown also returned a kickoff 53-yards which is his second-longest of the season.

COLLEGE:
Selected in the sixth round (162nd overall), Brown joins the Lions after closing out an impressive four-year collegiate career at TCU with 487 rushing attempts for 2,596 yards and 20 touchdowns, while also adding 81 receptions for 857 yards and five touchdowns. As a senior in 2008, Brown was placed second on TCU with 445 yards rushing, moving him into 10th place on the Horned Frogs' career list with 2,494 yards. Brown topped TCU with 1,042 all purpose yards despite sitting out the opening three games. Despite being plagued with injuries in 2007, Bronw was still placed second the on the Frogs with 490 yard rushing (4.6 per carry) while ranking fourth with 24 receptions. Also averaged 24.6 yards on 14 kickoff returns for the year. In 2006, Brown was TCU's top rusher with 801 yards and placed thirdi n the league (66.8 yards per game). His 5.2 per carry average was the best among the MWC's top-eight ground gainers. As a freshman in 2005, Brown was named the Mountain West Conference Freshman of the Year and an honorable-mention Freshman All-American as a true Freshman. Posted the highest per carry average (5.9) among the MWC's top 10 rushers. Closed the year with a 7-yard scoring run in the Houston Bowl win over Iowa State. Placed eighth in the league with his 758 yards, all coming in the last 10 contests (75.8 avg.). Ranked 12th nationally among true freshmen in rushing yards and in a tie for sixth with his three 100-yard games.

PERSONAL:
Played in one game as a senior at Mayde Creek High School. Coached in football by Joe Sheffy. Ran a 4.440-yard dash and recorded a 10.45 100-meter dash time on the track, one of the fastest prep times in the nation in 2004.
* An arts and sciences pre-major.
* Parents are Johnathan and Cheryl Brown.
View the full website biography of Aaron Brown.