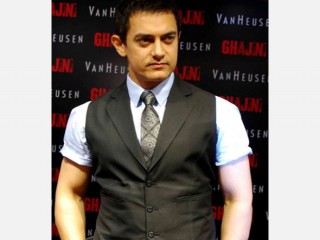 Aamir Khan
Date of birth : 1965-03-14
Date of death : -
Birthplace : Mumbai, India
Nationality : Indian
Category : Famous Figures
Last modified : 2010-11-01
Aamir Khan was born on March 14 1965 in Holy Family Hospital in Bandra, Mumbai in India in a conservative Muslim family which has been part of Hindi Film Industry for a long time. His father, Tahir Hussain, is a film producer while his deceased uncle, Nasir Hussain, was a film producer as well as a director and a actor.

Starting his career as a child actor in his uncle Nasir Hussain's film Yaadon Ki Baaraat (1973), Khan began his professional career eleven years later with Holi (1984) and had his first commercial success with his cousin Mansoor Khan's film Qayamat Se Qayamat Tak (1988). After seven previous nominations during the 1980s and 1990s, Khan received his first Filmfare Award for Best Actor for his performance in the major grosser Raja Hindustani (1996) and later earned his second Best Actor award in 2001 for his performance in the National Film Award-winning Lagaan. The film marked the debut of his own production company and became the third Hindi-language film to be nominated for the Academy Award for Best Foreign Language Film.

Following a four-year break from acting, Khan made his comeback with Ketan Mehta's Mangal Pandey: The Rising (2005), and later won a Critics Award for Best Performance for his role in Rang De Basanti (2006). The following year, he made his directorial debut with Taare Zameen Par, for which he received a Filmfare Award for Best Director. This was followed by Ghajini (2008), which became the highest grossing film of that year, and 3 Idiots,/i> (2009), which became the highest-grossing Bollywood film of all-time, unadjusted for inflation. The Government of India honoured him with the Padma Shri in 2003 and the Padma Bhushan in 2010 for his contributions towards Indian cinema.

Some of Personal Quotes of Aamir Khan -
Every film I do means a lot to me. The failure of Mela, definitely made a difference to me. I am not comfortable with the idea of my films not releasing to their full potential.

"There's a lot of talent both in India and Pakistan. I think the talent in both these two countries should come together and entertain the world audience. If the right offer and opportunity comes my way, I'd love to do a movie in Pakistan." (12 May 2006)

Film making is like fighting a war with leadership at the front.

I found that what happened 150 years ago was happening again with Americans entering other countries and exploiting them but pretending they were doing a favor. It was this contemporary feel that attracted me.

My son is a harsh critic.

I enjoy the love I receive from my fans and my audience. But I think I know what is real for me and what is not.

Facts:

- Aamir Khan was offered the role of Rahul Mehra in Darr (1993).
- Refuses to accept the usual awards from Indian trade magazines such as Filmfare.
- Known as perfectionist who insists on getting a finished script before committing to a film and also refuses to work on more than one film at a time, both very unusual for Bollywood where actors usually work in several films at a time and script details are often improvised on the day of shooting.
- Though nominated many times, Khan does not attend any Indian film award ceremony as he feels "Indian film awards lack credibility".
- He is a descendant of the Muslim scholar and politician Maulana Abul Kalam Azad and a second cousin to former Chairperson of Rajya Sabha Dr Najma Heptullah.
- Has been a big fan of Alfred Hitchkock stories.
- Visited Pakistan for fund raising of Shaukat Khanum Cancer Hospital on invitation by the cricketer Imran Khan.
- Time magazine refers to him as the Indian 'Sean Penn'.

View the full website biography of Aamir Khan.