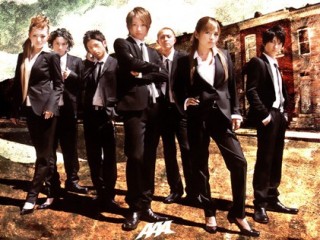 AAA (band)
Date of birth : -
Date of death : -
Birthplace : Japan
Nationality : Japanese
Category : Arts and Entertainment
Last modified : 2011-06-30
AAA (band) and also known as Attack All Around, is a Japanese pop band signed to the label Avex Trax which debuted in September 2005.

Produced by one of Japanese pop's foremost impresarios, Masto "Max" Matsuura, dance-vocal act AAA are a rare commodity in J-pop in that they are a mixed-sex group aimed at both female teenagers and male music fans. With cofounder and president of the Avex Trax record label Matsuura calling the shots, AAA has been able to secure the songwriting services of big-name producers. AAA (read as "Triple A" and thought to be an acronym for "Attack Al Around") began life in 2005 as a manufactured six-piece comprised of bandleader Naoya Urata, Takahiro Nishijima, Mitsuhiro Hidaka, Shinjiro Atae, Shuta Sueyoshi and sole female member Misako Uno. Two more girls, Yukari Goto and Chiaki Ito, would join soon after. Uno was plucked from an Avex audition. Urata and Goto "graduated" from the Avex's Artist Academy (Urata has also toured as a backing dancer with J-pop queen Ayumi Hamasaki and performed in the memorable video to Halcali's debut single "Tandem"); Hidaka, Atae, Sueyoshi and Nishijima were backing dancers for pop idol Ami Suzuki; and various members have acted, modeled (Ito) and presented on the radio. At least three members of the band are more than simply pretty faces: Goto represented her country in gymnastics as a teenager, Uno is a student at Tokyo Women's University and Hidaka is a student at Tokyo's elite university Waseda.

AAA debuted in 2005 with the single "Blood on Fire," the theme song to the live-action film Initial D: The Movie, an adaptation of the popular Japanese manga of the same name. The group clearly has friends in high places. Within 12 months of their debut, after releasing four singles and the debut album Attack, AAA won the Best New Artist of the Year Award at the 47th Japan Record Awards, despite failing to reach the upper echelon of the charts. The guitars may have been grungier and the raps rougher than their J-pop peers, but AAA are still very much a somersaultin', color coordinated "performance-dance" group well-chiseled enough (the guys, obviously) and cute enough (who do you think?) to appeal to the establishment. The album's budget was big enough to secure the services of writers and producers who had previously worked with Smap and Da Pump. Also contributing lyrics was the rapper motsu, from AAA's labelmates m.o.v.e.
A remix album, Remix Attack, followed in summer 2006 before a busy period at the end of 2006; early 2007 saw the release of AAA's second album All (which includes DVD footage from a performance at the 14,000-person capacity Budokan venue in Tokyo), and the release of the ten-track CCC: Challenge Cover Collection, which saw the likes of TRF and Godiego get the covers treatment. In June 2007 Goto left the band for health reasons.

The single "Get Chu/She No Jijitsu" preceded AAA's first overseas appearance, which took place in July 2007 in Baltimore, MD at Otakon, North America's second largest anime convention. Back in Japan, that month also saw AAA release three different versions of the same single, one featuring the full band, one featuring only the male members, and the other featuring just the girls.

View the full website biography of AAA (band).