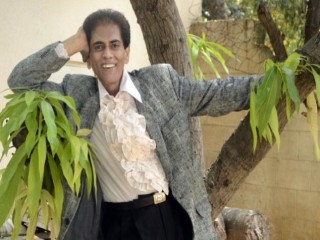 A. V. Ramanan
Date of birth : -
Date of death : -
Birthplace : Tamil Nadu, India
Nationality : Indian
Category : Arts and Entertainment
Last modified : 2011-07-06
A.V. Ramanan is a Tamil television host, singer and and actor. He became a household name in Tamil Nadu, during his hosting of the famous Sun TV program Saptha Swarangal. His cheerful style and bass voice endeared him to the audience.

A stage singer on the light music circuit for 34 years (which includes the 30 years of his troupe, Musiano) A. V. Ramanan's achievement in the entertainment scenario of Chennai cannot be overlooked or underestimated. And if people try to brush his efforts aside as just a live reproduction of film numbers, they better think again. For no singer classical, semi-classical or light always renders his own compositions. It is the presentation that matters. One couldn't help thinking on these lines watching the Musiano show at Kalaivanar Arangam, recently. The occasion was the 10th anniversary celebrations of Saravana Kalai Mandram.

Much has been written about Ramanan's light music performances from his astute choice of numbers to Musiano's excellent acoustic skills. To add anything more can only be redundant. This time too, as always the numbers had been chosen with a lot of care to cater for different tastes. However, not much has been said about the way Ramanan has honed his skill as an anchor over the years.

Ramanan's audience almost always comprises people of all ages. From the old to the middle aged, from kids to youth, the cross section is always wide. And Musiano always has something for everyone in its repertoire. Rarely does a Ramanan show fall flat or fail to take off. Talking, joking, chatting and smoothly switching over to singing is no mean task. The rapport with the audience is vital for success. Comments, repartees and subtle barbs have to be spontaneous, humorous, casual and conversational and not hurt anyone. Also they should be absolutely non-controversial. Ramanan did this tightrope walk with élan that evening. Probably the much successful `Saptha Swarangal' weekly show on Sun TV he has been anchoring for years now has also helped him. Striking an informal note straightway, Ramanan's quips struck the right chord with the crowd (a near full house). Those who have followed this man's agility on stage for long would know that his jubilant mood has been a sure draw. And on that day in particular, even his wife, Uma who is generally sedate, staid and serious on stage, could not control her smiles on a couple of occasions. At times the limericks, a la T. Rajendar, sounded slightly overdone, but they went down well with the crowd.

The butt of Ramanan's light-hearted jokes and wisecracks that evening was Musiano's experienced tabla player K. S. Rajagopal. Every song was prefixed with witty exchanges between the two, with Ramanan turning to the audience now and then to rope them in as well. And most of the time they responded with glee.
View the full website biography of A. V. Ramanan .