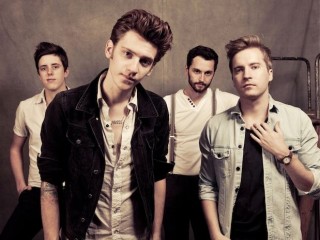 A Rocket To The Moon (band)
Date of birth : -
Date of death : -
Birthplace :
Nationality : American
Category : Arts and Entertainment
Last modified : 2012-07-04

The current incarnation of A Rocket To The Moon:
Santino, guitarist Justin Richards,
bassist Eric Halvorsen
and former The Receiving End Of Sirens drummer Andrew Cook.

They have put their collective experiences into the band's full-length debut On Your Side, an instantly infectious collection of upbeat pop music that was produced by Matt Squire (Panic! At The Disco, Boys Like Girls). "We had never recorded a full-length before and we learned so much from working with Matt," Santino explains, adding that On Your Side was recorded in a scant seventeen days—a fact that only adds to the album's sense of urgency. "We did it really quickly but we didn't feel any pressure because we spent so much time preparing before we went into the studio," he continues. "Justin and I are big country fans, so it's got that feel to it mixed with a '90s pop-rock kind of vibe; it's just an all-round fun album that doesn't fit into one genre."

From heartfelt piano ballads such as "Like We Used To" to energized radio-friendly rockers like "Dakota" and electronica-inflected tracks like "Sometimes," On Your Side is an exercise in versatility that shows how much the band have evolved as musicians and songwriters over the past few years. "There are so many different styles of music on this record, but I think Matt Squire helped us pull it off tastefully so it definitely all still sounds like A Rocket To The Moon," Santino says. "One of my favorite songs is "Like We Used To" because it has a lot of pedal steel and banjo on it, which is something that's totally new for us," he beams. "What can I say? I'm a sucker for a good love song."

Lyrically On Your Side is a concept album of sorts that pits the characters of "Dakota"—the protagonist of the band's breakthrough single—against "Annabelle" (the new album's opening track). "We kind of developed this theme that all the negative songs are about this character Annabelle and all the love songs are about Dakota—and that concept just came together when we were in the studio," Santino explains, "I think the album is a good balance of those two dueling feelings." While On Your Side is rooted in personal experience, the band were careful not too make the songs too literal in order to allow each listener the opportunity to have his or her own unique interpretation. "A lot of the time Justin and I will find ourselves making up stories or writing from other people's points of view and I really think that's the beauty of writing songs," Santino explains." You can do whatever you want, so why limit yourself?"

"Going Out" 2012 Single:


This attitude carries over into the band's mission statement—and from their inception A Rocket To The Moon have never had any interest in pigeonholing themselves into one style. "I think it's pretty awesome that we're able to tap a couple of genres instead of getting stuck in just one," Santino says. "Your options are pretty much unlimited if you can do a radio tour with a band like the Fray and then come back and tour with Boys Like Girls and Cobra Starship and have all different types of listeners embrace your music," he continues, adding that the restless band are already working on songs for their next album. "We just want to try new things and crossover into different places; one of the most validating things you can experience as a musician is to turn listeners on to something they wouldn't normally be exposed to on their own."

Speaking of which, the band's connection with their fans runs deep, a fact that has helped separate the act from their peers and forge lasting relationships. "A lot of bands have different onstage and offstage personalities, but we are always true to ourselves and try to get the fans as involved in the band as possible," Santino says, adding that he personally mailed out copies of his debut EP to fans who supported him when A Rocket To The Moon was just starting out. "We go up there and be ourselves and don't pretend to be rockstars; our job is to bring music to our fans, not to act like we're better than them and that's something I think people can really sense."

"I just can't wait to get these songs into people's hands," Santino responds when asked how he feels for the album to finally be completed after all the work that's gone into the On Your Side. "We got the masters back the other day and I was sitting there with a big smile on my face as I listened to it. I was thinking, 'You just recorded with one of the best producers around and you're about to release a real record—and a couple of years ago you were just sitting in your bedroom at your parents' house not doing anything,'" he explains, taking a moment to reflect on the band's whirlwind success that is looking to only grow more dizzying upon On Your Side's release. "It's been an amazing ride so far and I can't wait to see what happens next."

The band currently is signed to Fueled By Ramen, with a debut album, titled On Your Side, which was released on October 13, 2009, through Fueled By Ramen. They are currently working on an upcoming album, titled "Wild And Free" which will be released Fall, 2012.

View the full website biography of A Rocket To The Moon (band).