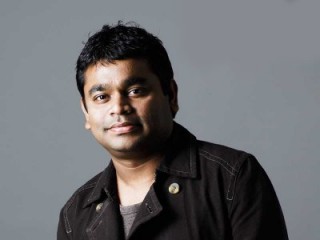 A. R. Rahman
Date of birth : 1966-01-06
Date of death : -
Birthplace : Chennai, Tamil Nadu, India
Nationality : Indian
Category : Famous Figures
Last modified : 2010-10-28
Allah Rakha Rahman (born as A. S. Dileep Kumar) is an Indian film composer, record producer, musician and singer. His film scoring career began in the early 1990s. He has won fourteen Filmfare Awards, four National Film Awards, a BAFTA Award, a Golden Globe, two Grammy Awards, and two Academy Awards .

His father, R.K. Shektar, was a music composer himself for Malayalam-language Keralite cinema. Prior to his own career as a composer, he created a couple of rock groups like Nemesis Avenue. His instruments of choice are the harmonium, keyboard, piano, and guitar. The most notable instrument he uses is the synthesizer, which he says, was the "ideal combination of music and technology." This would prove to be major for his later success. In 1992, Rahman began his own music recording and mixing studio attached to the backyard of his house called the Panchathan Record Inn, which was developed into India's most advanced recording studio His first film score was done in 1992 for the film "Roja."

The 1993 Best Music Director Award at the India National Film Awards was the first of countless awards he would receive over his career. He would win the Best Music Director three more times, a record for that award. Some of his notable works since this movie are "Bombay," "Kannathil Muthamittal," "Dil Se" and "Guru." The movies he makes are primarily in Tamil and Hindi, but has also done scores for English and Japanese speaking movies.

A.R. Rahman's musical style was groundbreaking for it involved elements of rock, funk, Tamil traditional folk, Western classical, reggae, and Carnatic music. He was a trailblazer for making music scores by improvising these genres in any given mix as well as incorporating new audio technology to his work. Rahman attached and opened a developed extension studio to his Panchathan Record Inn in 2005 called AM Studios in Kodambakkam, Chennai considered to be the most developed, equipped and high tech studio in Asia.

In 2006, Rahman launched his own music label, KM Music. A.R. Rahman has sold over 200 million records worldwide, making him one of the highest selling artists in recorded music history. He has won the Filmfare Award for Best Music Direction 12 times, including a streak where he won the award every year from 1992 to 2000.

In total, he has won 23 Filmfare Awards. In 2009, he won the Golden Globe for Best Music Score for the movie Slumdog Millionaire. Perhaps his greatest crowning achievement came on February 22, 2009, when he won 2 Academy Awards, one for Best Original Song and Best Original Music Score. A. R. Rahman is married to Saira Bano. The couple has three children, Khadijah, Rahima and Aman. Rahman is related to the southern Indian actor Rashin Rahman. Rahman is the uncle of composer G. V. Prakash Kumar.

He converted to Islam from Hinduism in 1989 along with his family after a personal experience with a Sufism teacher. With many more projects on the horizon, A.R. Rahman will continue to add to his amazing resume and has left an indelible mark on the film industry worldwide.

View the full website biography of A. R. Rahman.