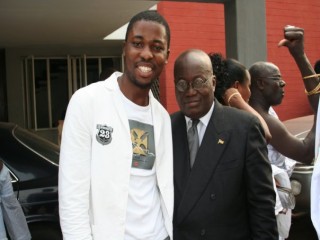 A-Plus (rapper)
Date of birth : 1974-04-15
Date of death : -
Birthplace : Denver, Colorado, U.S.
Nationality : American
Category : Arts and Entertainment
Last modified : 2011-06-23
Adam Carter, known by the stage name, A-Plus, is an American rapper and producer.

Born to Jamaican parents, Adam Carter moved to Oakland, CA, from Denver with his family when he was just five years old.

It was in the Bay Area where he first discovered hip-hop, writing his first rhyme at eight and making his first beat just a few years later. He attended the same elementary school as Del tha Funkee Homosapien, Casual, and Tajai, the latter of whom introduced him to Phesto and Opio, with whom A Plus (he got his name from his father, commenting on the grades he brought home) formed Souls of Mischief in high school. The trio was signed to Jive and released its first album, 93 'Til Infinity, which helped to start the thriving backpacker hip-hop scene in California. Shortly after their second album, No Man's Land, came out in 1995, the group was dropped from its label, but quickly joined in as founding members of the Hieroglyphics (the leader and most well-known member being Del), a kind of collective/independent label based in Oakland that self-promoted and self-released records from its artists, and also had its own clothing line, among other things. Although A Plus, who also sometimes went by the name "Plee," had spent many years working as both an MC and a producer, it wasn't until 2007 that his first album as a solo rapper, My Last Good Deed, was released.


View the full website biography of A-Plus (rapper).