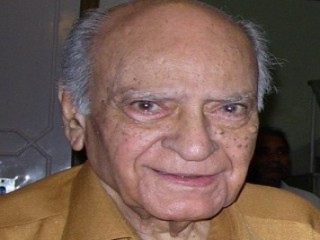 A.K. Hangal
Date of birth : -
Date of death : -
Birthplace : Sialkot, Pakistan
Nationality : Pakistani
Category : Arts and Entertainment
Last modified : 2011-07-06
A.K. Hangal(born 1917) or Avtar Kishan Hangal was an actor of Indian Hindi films.

A tailor by profession, he was an active participant in the Indian freedom struggle. He spent his childhood in Peshawar, where he had performed in theatre for some major roles. However his primary occupation for the early part of his life was that of a tailor. Following his father's retirement, the family shifted from Peshawar to Karachi. He moved to Bombay after the Partition of India in 1949 after a 3 year prison in Pakistan. He was involved with the theatre group IPTA along with Balraj Sahni and Kaifi Azmi, both having Marxist leanings.

Career

He started his Hindi film career at the very late age of 49 with Basu Bhattacharya's "Teesri Kasam" in 1966, and went on to play the quintessential meek and oppressed poor man in innumerable Hindi movies.

And he has played a very large number of character roles, mostly positive. His own favorites are the roles he played in "Sholay" and "Shaukeen".

In 1993 he had applied for a visa to visit his birthplace in Pakistan, and the embassy invited him to Pakistan day celebration. Shiv Sena leader Bal Thackeray took offence and there was a talk of a boycott and having his scenes removed from films. Bal Thackeray clarified a year later that he had not asked for a boycott and roles started coming back to Hangal.

He worked in 126 films. He had one son, and after the death of his wife, he lived alone in his flat in Santa Cruz Mumbai.
The Government of India awarded him the prestigious Padma Bhushan for his contribution to Hindi Cinema in 2006.

Old age problem
Hangal, who has more than 200 films to his credit in a career that spanned nearly five decades, due to his old age post 2007 found it difficult to meet his medical expenses. His son Vijay, a retired cameraman and former Bollywood photographer, himself is 75 and has not had a full-time job since 2001.With just a gap of 20 years between Vijay and Hangal it was difficult for them to manage their day to day expenses. Earlier, Vijay would take up small jobs but now, he can't do that either because of a back problem. Post 2007 A.K.Hangal has been suffering from a disease and has run into financial troubles in garnering money for treatment (he and his son have to spend 15000 rupees a month on medicines). So income stopped coming into the house from all quarters. When this plight of the veteran 95-year-actor was highlighted by the media and newspapers on 20 January 2011, many film stars and directors promised to help the 95-year-actor financially. Maharashtra chief minister Prithviraj Chavan pledged to give him Rs 50,000.
Jaya Bachchan who worked with Hangal in 6 films including Guddi, Anamika, Bawarchi, Abhimaan, Kora Kagaz, Doosri Sita and Jawani Diwani and Sholay, on getting to know about his condition, said: "Please tell Hangal saabthat his daughter was not aware of his condition and I am really sorry about it. My office will be taking care of all his hospital expenses.

Mithun Chakraborty, founder and president of the Cine Artistes Welfare Trusta body had set up by the Cine and TV Artistes Association (CINTAA ) and he said he has already asked the association to release funds for the senior actor. On 21 January 2011, Dharmesh Tiwari, the president of CINTAA concurred and said the association has helped Hangal in the past and will continue to do so and that they will be sending a cheque of RS 50,000. On 21 January 2011 Salman Khan contacted Tiwari on Thursday to pledge his support. Director Samar Khan used then a popular social networking site to spread the word, and by 22 January 2011 friends and fans had pledged about Rs 1 lakh. Tiwari said, "If the government can allot some land, we can use it as Hangal saab has suggested to build an old age home for artistes. Mumbai, which is the birthplace of Bollywood, is not paying any heed to us.

Then Ranjan Thakur, the personal secretary to I&B minister Ambika Soni said, "The minister has spoken to Ramesh Sippy and the Film Federation and has asked them to keep us updated on the funds collected for A K Hangal. We are looking at the possibility of a long-term health insurance program for retired actors. On 4th of March, 2011, it was reported that Amitabh promised to take care of his medical expenses, and Aamir Khan promised in one of the press conferences, that now, when he has known about it he would go see him and would help him in every way.

Family
He has a son, and after the death of his wife, he lives alone in his flat in Santa Cruz, Mumbai. His son Vijay Hangal is a retired Bollywood photographer and cameraman who lives in flat adjacent to Hangal. Vijay's wife died before 2000 and does not have any children.
View the full website biography of A.K. Hangal.