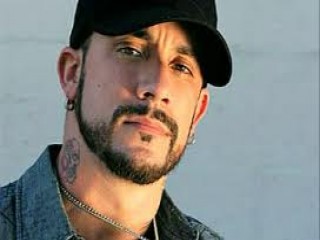 A.J. McLean
Date of birth : 1978-01-09
Date of death : -
Birthplace : West Palm Beach, Florida, United States
Nationality : American
Category : Arts and Entertainment
Last modified : 2011-06-15
Alexander James "Alex" McLean, known as A.J. McLean, is an American musician and singer. He is a member of the Florida based vocal group, the Backstreet Boys.

A.J. has been singing and entertaining since he was six years old. His first theatrical production cast him in the role of 'Dopey' in "Snow White and the Seven Dwarfs". He followed this debut with parts in "The Nutcracker", "Fiddler On The Roof", and "The King And I". A.J. had appeared in 27 plays by the time he was twelve years old. He is an all around talent, not only can he sing and act, he's a natural dancer. He learned ballet, jazz and hip-hop. He puts all of his talents to good use during their live shows.
A.J. was cast in the Nickelodeon series "Welcome Freshmen" and auditioned for other Nickelodeon shows and also Disney projects. He met Howie and Nick at one of these auditions and the roots of the Backstreet Boys were planted.

A.J. enjoys everything about being in a group like the Backstreet Boys. The travel, performing, and fans are great, but sometimes the extent of their fame amazes him. It's just not as easy as it used to be to go out to a club or even shopping. A.J. loves the fans though and will always stop to sign an autograph or have a picture taken.

The Backstreet Boys have labeled A.J. the flirt and also Mr. Talkative. If he isn't flirting, he's on the phone. Usually he's calling his family in Florida. They all agree that he's very good at talking. He's a good storyteller and he'll tell stories for hours, sometimes they're true, sometimes made up.

Of all the Backstreet Boys, A.J. admits he is the most girl crazy. The first thing he notices are a girls' eyes, he says he can tell so much about a person looking into the eyes. A.J. prefers long hair but short hair is fine too. A.J. says he was raised to respect women and he is quoted as saying, "I'm the type of guy who likes to be there 24-7. I'm Mr. Roses. I'll sing outside your window. I'm as old fashioned as they come." A.J. wishes all the adoring girls now were around when he was in high school.

The band reunited for a world tour in 2004 and released a comeback album entitled "Never Gone" on June 14, 2005.

In March 2008, McLean performed his first two solo shows (as himself) at the Anaheim House of Blues and The Roxy in Los Angeles. The show consisted of his solo material and a solo version of the Backstreet Boys hit, "Incomplete". The solo tour continued through Europe in May and June, in parallel to Backstreet Boys tour. While creating his solo project, McLean worked with the OneRepublic vocalist Ryan Tedder, producers Dan Muckala and Kristian Lundin, plus the former 'N Sync member, JC Chasez. On January 20, 2010, Have It All, was released in Japan. He confirmed on the Backstreet Boys cruise in December 2010 that the US version would be released on February 8, 2011.

View the full website biography of A.J. McLean.