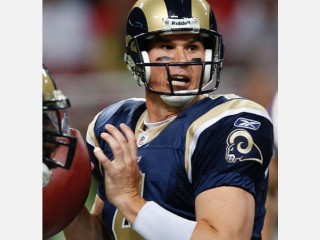 A.J. Feeley
Date of birth : 1977-05-16
Date of death : -
Birthplace : Caldwell, Idaho
Nationality : American
Category : Sports
Last modified : 2010-12-21
A.J. Feeley is an American football quarterback for the St. Louis Rams of the National Football League.

Pro Highlights:
ST. LOUIS – The Rams added a veteran quarterback to their roster Saturday as they signed A.J. Feeley, the team announced.

"It is always nice when you have an opportunity to obtain a player that you are familiar with," said Head Coach Steve Spagnuolo, who was on the coaching staff in Philadelphia with Feeley from 2001-04. "Pat Shurmur and A.J. have a working relationship from their time together with the Eagles. A.J. has an understanding of our offensive system and will be a valuable addition for our team."

Feeley, 32, enters his 11th NFL season. He originally entered the league as a fifth-round draft pick of the Eagles in 2001 and played six seasons in Philadelphia in two separate stints. Spagnuolo was the Eagles' defensive backs coach during Feeley's first three seasons with the club, and Rams offensive coordinator Pat Shurmur served as Feeley's position coach for five of Feeley's six years in Philadelphia.

"I'm excited about the opportunity to become a Ram," Feeley said. "I have a great deal of respect for Coach Spagnuolo and Coach Shurmur and I'm looking forward to working with them again in whatever capacity it might be."

Feeley (6-3, 220) has appeared in 23 games and started 15 contests while playing for four different franchises. In 2002, he started the final five games of the season after Donovan McNabb and Koy Detmer were injured. Feeley led the Eagles to a 4-1 mark during that span and helped Philadelphia secure home-field advantage throughout the playoffs.

Prior to the 2004 season, the Eagles traded Feeley to Miami in exchange for a second-round draft choice. Feeley started eight games for the Dolphins in 2004 before being traded to the San Diego Chargers midway through the 2005 campaign. He re-signed with Philadelphia in 2006, where he served as a reserved for three seasons. Feeley spent 15 weeks of the 2009 season with the Carolina Panthers.

A native of Ontario, Ore., Feeley was a four-year letterman at the University of Oregon prior to being drafted by the Eagles.


View the full website biography of A.J. Feeley.