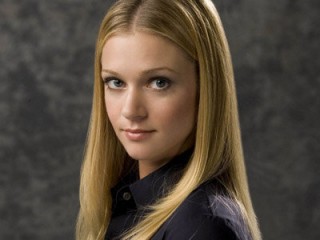 A.J. Cook
Date of birth : 1978-07-22
Date of death : -
Birthplace : Oshawa, Ontario, Canada
Nationality : Canadian
Category : Arts and Entertainment
Last modified : 2011-05-20
Andrea Joy "A.J." Cook is a Canadian actress best known for her role as Supervisory Special Agent Jennifer "JJ" Jareau in the CBS crime drama Criminal Minds. She has also appeared in several Hollywood films including The Virgin Suicides, Out Cold, and Final Destination 2.

CAREER:

The Canadian actress began her professional career as a competitive dancer before getting her first big break at age 17, appearing in an episode of the kid-oriented TV scarefest "Goosebumps" and nabbing a role in the TV drama "In His Father's Shoes," both in 1997. Other made-for-TV fare followed before Cook appeared prominently as Mary Libson, one of the doomed sisters of "The Virgin Suicides" in 1999, followed by her first leading role in the straight-to-video supernatural thriller "Teen Sorcery" (1999), traveling through time while battling a malevolent cheerleader. She was next cast in a recurring role on the Fox Family Channel family drama "Higher Ground" in 2000, playing Shelby, the girlfriend of regular cast member Hayden Christensen. Cook then got her first leading role in a full-blown horror film, playing the heroine of the bloody, straight-to-video "Ripper" (2001), which she followed up with a prominent turn in the direct-to-video sequel "Wishmaster III" (2001). She also tried her hand at a comedic role, appearing in the lunkheaded snowboard comedy "Out Cold" (2001), and then quickly found her way back to C-grade horror with the little-seen "The House Next Door" (2001). She next assumed the lead role in the 2002 sequel "Final Destination 2" playing the latest college student who's caught up in the franchise's not-as-clever-as-it-thinks-it-is conceit, stalked by Death after having cheated it. Although required to play morose and traumatized through most of the film, Cook did demonstrate a decent range of acting skills that suggested she'd fare well if cast in a better grade of films.

View the full website biography of A.J. Cook.